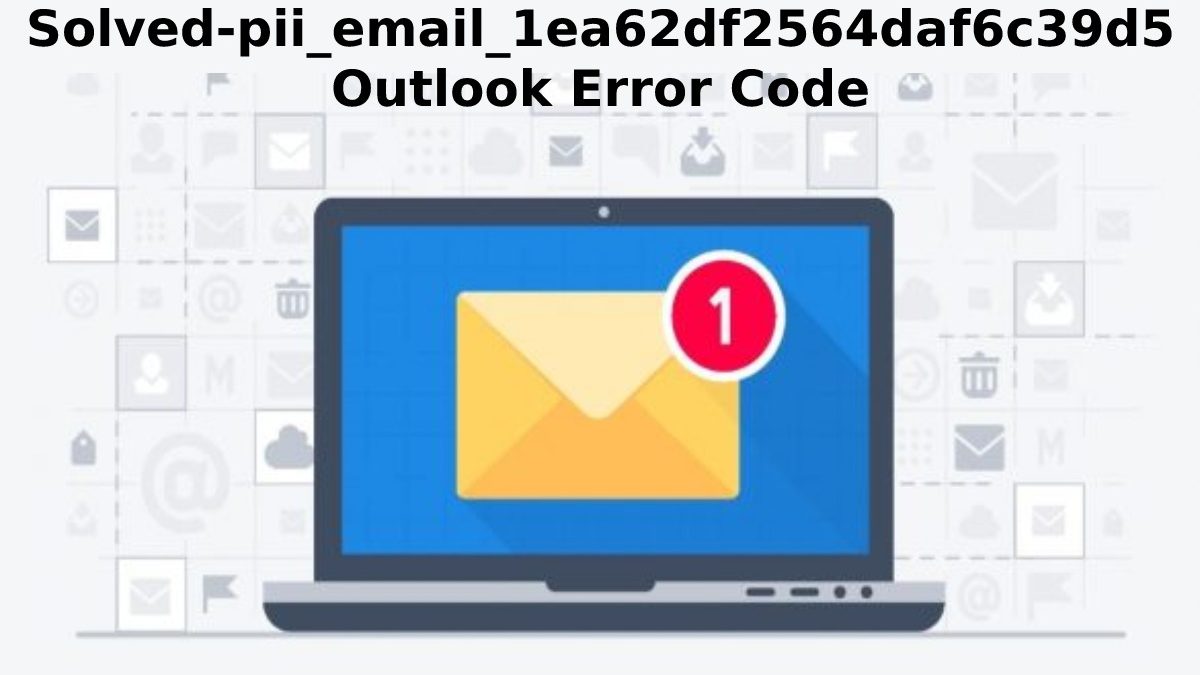 pii_email_1ea62df2564daf6c39d5
pii_email_1ea62df2564daf6c39d5 Error codes are the most common things that happen when we are using a commercial application. pii_email_1ea62df2564daf6c39d5 is also one of them, mainly when using the Microsoft Outlook application.
Microsoft Outlook is one of the most widely used business applications in the world, and if you come across an error code like pii_email_1ea62df2564daf6c39d5 while using your Outlook program, you have come to the right place.
Here in our article, we will explain Microsoft Outlook error codes in detail. How they will occur, and what are the reasons for their occurrence. Here we will also explain how to fix the problem with simple steps and processes.
Reasons for the Error Code pii_email_1ea62df2564daf6c39d5?
Below are the main reasons why we will encounter error code issues in the Microsoft Outlook app.
It occurs when you are using an outdated Outlook application.
I am using multiple accounts at the same time.pii_email_1ea62df2564daf6c39d5
Cache and cookies issues.
Due to third-party antivirus applications, error codes such as pii_email_1ea62df2564daf6c39d5 will also appear.
Steps to Resolve Error Codes Like pii_email_1ea62df2564daf6c39d5
Below are the crucial steps you need to follow to fixed Outlook error code issues on your device.
Step -1: Clear your cache and cookies from your browser
If you have this Microsoft Outlook error problem, the first thing to do is to check your browser cache. We need to clear our cookies and stock for all apps to run smoothly, as they can cause inconvenience to software apps and their execution. By removing the cache, you can sometimes get rid of these errors, but not always.
Step 2: only use one account at a time
Sometimes we forget and log in with different accounts at the same time. The biggest mistake that many people will make is that they will face Outlook errors like email error code pii_email_1ea62df2564daf6c39d5. So we have to check when using the app if you have already logged in with another account. First, you have to log out and clear the cache. After that, we have to log in with the version we want to use.
Step 3: reinstall Outlook
Sometimes error codes may appear due to improper installation of Outlook applications. Sometimes while installing Microsoft, due to reasons like slow internet connection or slow device, the application will not install correctly and may run with some complications like the appearance of error codes. 'error mentioned above.
Right now, we need to uninstall the app and reinstall it, which can work fine without any complications or hassle.
Step 4: Using the Web Application
Using a Microsoft Outlook web application can also clear email error codes such as pii_email_1ea62df2564daf6c39d5 and eliminate these annoyances when using the program.
Step 5: Check the Antivirus Applications
Most people use antivirus applications to protect their devices from attacks by unknown malware on the Internet. Sometimes Outlook error codes are caused by these third-party antivirus software applications installed on our device. So if you are facing an Outlook error problem, you should check this step once by disabling the antivirus app on your device. Sometimes it can work.
Step 6: Update your version of Windows
The version of Windows you are using is also comprise of Microsoft Outlook error code issues such as pii_email_1ea62df2564daf6c39d5. If you are using the older version of Windows, you may experience such issues. If you face such error code issues, you need to update your version of Windows and then check the Outlook application.
Step 7: Contact Microsoft Customer Service
The last and best thing that anyone facing Outlook error codes should do is to contact the Microsoft team customer service. You should contact the team by email or call the support numbers and state the issue you are facing. They will help you with some simple and easy steps to overcome the problem you are facing.
The bottom line pii_email_1ea62df2564daf6c39d5
From the above article, you can quickly know how Microsoft Outlook error codes like pii_email_1ea62df2564daf6c39d5 happen and how to overcome them by following the simple steps mentioned in our article. Not just those error codes. If you are having issues with your Microsoft Outlook, many types of error codes will occur, but they all require the same solution.
Here are some of the most common Outlook Error Codes:
[pii_email_67907b59736751561a23]
[pii_email_a1cc7b70d50b46098459]
[pii_email_111dd8f5fa26379dc099]
[pii_email_169fd43b817e470ae301]
[pii_email_8fe0f671b361c8ac5776]
[pii_email_178b1b8c8e4dc1c33c0f]
[pii_email_a32d8b04996f6ae8eeb0]
[pii_email_6f56161c74f95924012e]
[pii_email_d1312ea8504adaddc88e]
[pii_email_c5e33ad78ca2613b74e2]
[pii_email_0798d2cbe47405be6fe2]
[pii_email_8d527d394345cf85ee4b]
[pii_email_461bc736c384760d4cfa]
[pii_email_9acfb5c5fb8c15c03bc3]
[pii_email_3752030a55c2bc3f231c]
[pii_email_b9ce4a385cb8780d05d3]
[pii_email_dddc7397d8cf091f5e5e]
[pii_email_156ace0e145b9121a257]
[pii_email_7a5a505c48bccb7a0599]
[pii_email_64a8d2b69f5f62f4aa61]
conta digital [pii_email_9756c8c5c032e53bb076]
[pii_email_c7d39533d24206a118a8]
[pii_email_fd42e2e17733ef139763]
[pii_email_5d70b470d67dbe185970]
[pii_email_6c4fd442cd4cab42efbd]
[pii_email_36de891c122d507748c0]
[pii_email_e6fdace632f723109838]
[pii_email_b8c6f7642f2d5243fa48]
[pii_email_bb8bf9e98ec7acd16ded]
[pii_email_d0d162fab880b5e81452]
[pii_email_7cedc250793bb2f02cab]
[pii_email_2e4c2a68ed7a416f8acf]
[pii_email_63a395f91dbc0bcb3a96]
[pii_email_51e950629b961543d164]
[pii_email_8c829561a8d50e3e8386]
[pii_email_4528d6ca35c70de29002]
[pii_email_33f5d696d68843d95791]
[pii_email_22cd2ebf38aa975b94b1]
[pii_email_11f886efcc55e066ac5e]
[pii_email_e750a344399e4cf95d14]
[pii_email_43c82e05a7fc4cacec8e]
[pii_email_ecde27af0305808b1b68]
[pii_email_2c79d53abddae7ff50d9]
[pii_email_326c9077fe4985dce326]
[pii_email_c967d6967bf9099b9360]
[pii_email_b7cda8bf27db8a078ba8]
[pii_email_a273c8571f360d10607a]
[pii_email_101aeb0a9d114edd3b45]
[pii_email_dbe0c255fe62f501f6c8]
[pii_email_f6b01a5dc7c088756408]
[pii_email_2424915ea6b6e6e1d844]
[pii_email_e2f1e8a8f38496f58d0e]
[pii_email_45995450d9342a93d55c]
[pii_email_a9844ef2b6d54793993d]
[pii_email_2aeac4ba1236ce469006]
[pii_email_f7fcea964c820c4154df]
[pii_email_e8f5771607ca3ec418b6]
[pii_email_7e3d44b40c5b2ff01a81]
[pii_email_1e6f2c6cdc29e9770b55]
[pii_email_5eb6217a9d041ec71f0d]
[pii_email_efde084875361f7c222c]
[pii_pn_6cc2e13ed2914c87f8f1]
[pii_email_0776f39deda1b03b6bda]
[pii_email_037d585d44572610fbef]
[pii_email_2d8c3eb986769fd38cf4]
[pii_email_3df10c6245403b742694]
[pii_email_1fc988ed59f7f58f6db6]
[pii_email_29168b7a1f2ce74be269]
[pii_email_59b488f76aa9cad98800]
[pii_email_ad4ae20bf52e384cc0dd]
[pii_pn_08008e007e6bd0bcd833]
[pii_email_2691d855fe6f6be75143]
[pii_email_dcf6d0d5c4f2d56df4e7]
[pii_email_578e486981a758e23729]
[pii_email_fe348201988176bffa91]
[pii_email_7dedb73e5505d0497db8]
[pii_pn_0a2032ac8f9c88faf63a]
[pii_email_70d1b2a8ecb1d4a02f04]
[pii_email_a867502c6be2fce9d1e4]
[pii_email_410bdc3a3aa5816834bb]
[pii_email_41e390d8a155332dc382]
[pii_email_6b610c4c3f19a9bc8dce]
[pii_email_d96c0033c332d34dee70]
[pii_email_3cf2c4627e0733d8321a]
[pii_email_582402beadb310280063]
[pii_email_9410163724f87d10d3cf]
[pii_email_991a65d5cb8d0f50fee3]
[pii_email_6c1d3326ba7856c10d9a]
[pii_email_ba766cb0c5c67bd5e5a9]
[pii_email_9dc299d031444b906828]
[pii_email_3f489fb13def98299ab0]
[pii_email_08b95414a8c87832d5d3]
[pii_email_95bba00e63b3de7d9679]
[pii_email_bbe29fe11c1a373dff30]
[pii_email_a298b3fbeb85696873b7]
[pii_email_8fcdc25d36e8e5241df6]
[pii_email_52b1e996ea29eba1b80a]
[pii_email_5f1082859a7b47e02374]
[pii_email_9bb10e86efbd83321529]
[pii_pn_634ab11647f1e89bea00]
[pii_email_9b6fc46c645fc7eef820]
[pii_email_2c2112aa858871debbb0]
[pii_email_4528d6ca35c70de29002] fatura
[pii_email_802165ba547f297b4d99]
[pii_email_953c65e5ac632239018d]
[pii_email_779a856357a1bbdf49be]
[pii_email_e6164bcefd3666354c28]
[pii_email_97f182d434b97141dfad]
[pii_email_0eb2effd9ee98450d67d]
[pii_pn_e33594bff6d4c72d0e9d]
[pii_email_2d6bedc3632ee32647fa].
[pii_email_269875f00330f39b4ce1]
[pii_email_15d0962ca50ad2f94db8]
[pii_email_f1e59c650baed751245b]
[pii_email_bc4566d98bf748afdc0e]
[pii_email_801837fd6e7acf4bd692]
[pii_email_434593fe2cddbd96e477]
[pii_email_c528b92b17eedb3e5e33]
[pii_email_e8df564e45788d1719f0]
[pii_email_d0256be0f523eba8914f]
[pii_email_0c01db3e936ace3bd906]
[pii_email_be87727a1b42d303e516]
[pii_email_6c6121459af81e7c09de]
[pii_email_567b291cc2e76224b33a]
[pii_email_ff421788dac2995b4b0d]
[pii_email_f6c5835d5b992d52681c]
[pii_email_772f4cbb1e2e87a80cf7]
[pii_email_68cc26d1eca4e3cfc611]
[pii_email_a77847b671a1ccf8e3de]
[pii_email_c6e16c48d7fced92ccde]
[pii_email_42fc1fd2f2cb1f710e55]
[pii_email_204a1e9d2baf600707b6]
[pii_email_9a524899afdaa211c911]
[pii_email_70171382d0eb92b5decc]
[pii_email_abad07d46ec9fab6bac9]
[pii_email_c11ee985ec3fa2d50f21]
[pii_email_72c6d04e0595dd61d918]
[pii_pn_e6a2a5cd004080e20c3b]
[pii_email_4d3b417a366e66a18e46]
[pii_email_2d8b88357322f847ac74]
[pii_email_438e77997a2bd8c7519d]
[pii_pn_a026c6128409caf87b19]
[pii_email_d063acd106cf981e1778]
[pii_pn_dfc4482c28d9e91b05dc]
[pii_email_a8666d506055e571381d]
[pii_pn_36cb57f25b45f19b6599]
[pii_email_c686da4f3a3c8ea56219]
[pii_email_268f93dad202e0740c97]
[pii_email_cddcb51bf30a5e9d8be6]
[pii_email_429d3e7e7d628f02e3a7]
[pii_email_49dac24328fc858705a5]
[pii_email_535b7afc95c3226be274]
[pii_email_0312c795120577f2acae]
[pii_email_c9f8730280cf00e16aea]
[pii_email_47c778f52c5faef4c10d]
[pii_email_405f0bbbbf98cf422c3d]
[pii_email_f45ddbd0a495fe4a22d1]
[pii_email_5195b67b4a9b259cc833]
[pii_email_99ac217b58c550919ba7]
[pii_email_a02fa448cf0ce4c38dcb]
[pii_pn_4eb85dd836ba62fa04e0]
mck iptv brocēnos
[pii_email_1a3b3cfa7ff7eb6c0c76]
[pii_email_75e564d72c6d6351bb3b]
[pii_email_dcbe9df8c7dfaa6d5057]
[pii_email_07fdcba16561d7eba656]
[pii_pn_cacd57e4af8aa8e3d566]
[pii_email_58592ed5c5e486d7f940]
[pii_email_302936ccd78c894425a9]
[pii_email_cbf220d55083a21c1ffe]
[pii_email_b90cce52e9daaaa5f464]
[pii_pn_6e185b08576ee4115111]
[pii_email_2aeac4ba1236ce469006].
[pii_email_6322abcf7460837b71d4]
[pii_email_45cd6abb872a53b62deb]
[pii_pn_88be1a6b55f6fbe13e54]
[pii_email_ecb80ed6e88f42324029]
[pii_email_8ebbd5f04ac82018e7ad]
[pii_email_6a0aba8e5d80f928ccee]
[pii_email_6455d34b6d56df0677c5]
[pii_pn_cc2d1c275a23ae010570]
[pii_email_f4df4c866d112c8ce68d]
[pii_email_0e543f946068d9432fd6]
[pii_email_fbef775bb5bb07e07742]
[pii_email_de408273fbb6228bdb8f]
[pii_email_af6321704ccb93eaa85c]
[pii_email_1b732f0a96816a6deab3]
[pii_email_bd609183315e6d77b437]
[pii_email_322274a68b5b548fa1fc]
[pii_pn_486a1ef7addbd4a5dcb0]
[pii_email_a980c5a7fed802109ebe]
[pii_email_e5641cfae3cfc66b6325]
[pii_email_f9f6d7d9ebde75fd1326]
[pii_pn_7b6cc94d71c5d7726b24]
[pii_pn_071fe35f6cdd0379b380]
[pii_email_c52af805347c2e7c4b3f]
[pii_email_4504a4d1e6f4a165c037]
[pii_email_ab147b401da03c5ee7ef]
[pii_email_32500610c6f97d3f198f]
[pii_email_b4c57233630dbdd090cb]
[pii_email_56048f36830f59863f70]
[pii_email_3cf491465be0b0b1db0c]
[pii_email_11c1d0451bc4bb3d6804]
[pii_email_b2bb3affadc918ced087]
[pii_email_193cfaca48f61cc982e1]
[pii_email_74eb8115b4a2c484698b]
[pii_email_75d5edc523a75ebd6626]
[pii_email_03676eeb916bb141b5bd]
[pii_email_56ed8525bf3652053db8]
[pii_pn_b800ab674ac3928fe035]
[pii_email_9e6bbbd19266f9479afd]
[pii_email_bab188e0afc448b4a13d]
[pii_pn_09375afb720e89f92fe9]
[pii_email_d534453d26d1aecb9a85]
[pii_email_86a378a10e0d80e3b2be]
[pii_email_4ef4165a236b83374634]
[pii_email_9fe7fb6646a51bed911e]
[pii_email_a11c655de1aa36b36e88]
[pii_email_bcef424a7953e845d981]
[pii_email_12daf79afc1455d845b8]
[pii_email_4c0b922ec7d96ad74d0c]
[pii_pn_076dd9118719a2c08fde]
[pii_pn_4975a5f186295400fe86]
[pii_email_e6a91128bbcc5a4757f0]
[pii_email_bdace87a24091a96150a]
[pii_email_384c189f3fabbf7f93b1]
[pii_email_c797a2e942ac7a54c323]
[pii_email_4122abb1ec790f6592f4]
[pii_email_1cfd3f4f9f5eaa4f15d2]
[pii_email_d3caa92332fea649a34e]
[pii_email_bf08d60e5a97d7ab01ef]
[pii_email_2627eb860d6f876e3180]
[pii_email_55e943f5d5a0fcaa86d5]
[pii_pn_4802f3db9e445f7e04c4]
[pii_email_31a4e6a6eb99c42c352e]
[pii_pn_2263301bda8a12eec8c3]
[pii_email_0916d6186d6f299db23c]
[pii_email_0e42f9903c1c5dad548f]
[pii_email_2ee5eceae00d7805a70a]
[pii_email_5c2b7c80245f3adf7fa5]
[pii_email_15946a8f6d2e96b28f82]
[pii_email_2d2a1fbed13968f38646]
[pii_pn_c049999a8e5c26baa853]
[pii_email_1be8495deee7160dc926] betim
[pii_email_ca926e049a56e7939a1e]
[pii_pn_1c917162f3e0d99b916f]
[pii_email_1064726de060564e13e7]
[pii_email_583f716f9d7a4da6501a]
[pii_email_cad6897ac738ce726276]
[pii_email_0db4c7377a6d296af987]
[pii_email_8ca4ed8d7a42624269c6]
[pii_email_d046bfb4998cff8c91d6]
[pii_email_430963a2864a95b60495]
[pii_pn_221ff2a488b17132f886]
[pii_email_3cc73a25726b19f2950e]
[pii_email_873d848bc86403021191]
[pii_email_03c6acc7fdc5035e6a1b]
[pii_email_7a4872b0ec8dc9a6a64c]
[pii_pn_5c3d82025a54925b6767]
[pii_email_0661be6c4d935a80ce26]
[pii_email_18845f1ba2e69e8dbc5b]
[pii_email_694aab7a1f49bbb2dfb5]
[pii_email_ebdcb57c98e220f8e959]
[pii_email_617d83c2f3490ce317a9]
[pii_email_1726e7002d2de3b903be]
[pii_email_7ec568d381f6878222a5]
[pii_pn_a82e2bf056a53449162e]
[pii_email_afd7f198cfdecdad170b]
[pii_email_ebd1a8959adf8f790a28]
[pii_email_682ac64449c10afcc868]
[pii_email_9a250486dfc2840ea0a0]
[pii_email_7836de0c75ac3e85d023]
[pii_email_e636dcea7b14fa8c3ee3]
[pii_email_7ade6540e7d1ee28958c]
[pii_email_efeae0dfbdb0c74030dc]
[pii_email_a8861cd264cd944137c5]
[pii_email_3c4ee4cec7e7b88ed32a]
[pii_email_e3a88a3f8f641e6c1641]
[pii_email_41129a957c08447b687e]
[pii_pn_75dd0685214930038f18]
[pii_email_432e72afa5ca0c79246e]
[pii_email_f5287b9ca2c928a19e0e]
[pii_email_23a3bd51b74d17547a1a]
[pii_email_da9d985852b786d30eab]
[pii_email_835a11cac462c7237498]
[pii_email_9984a6d1a089da76d40b]
[pii_email_2d6bedc3632ee32647fa]
[pii_email_a21e7f9e137d9c16b05f]
[pii_pn_5249d9fbc1bd4eab632c]
[pii_email_3e65aa7397c378688a00]
[pii_email_1d7b4857a4d546a01274]
[pii_email_46134314e996227f7940]
[pii_email_3572f7a0d8e42e82f3bb]
[pii_email_8fbad926e455ac156906]
mck brocēnos
[pii_pn_09418c10bee468808cc4]
[pii_email_037d35d5dd9d7f05f1b6]
[pii_email_a298548aadb3e08028f3]
[pii_email_a747cd82158b43044dd5]
[pii_email_58a13f27055f05d93173]
[pii_email_410907f645fbb349e08b]
[pii_email_e8d15494da646509fe7c]
[pii_email_8a29544f4f8da48a4c9b]
[pii_email_27387f4e6d3b23845963]
[pii_email_0ce62f10b551e2851387]
[pii_email_e92df37a9586d14746fb]
[pii_email_b7795693c063bfdde9f3]
[pii_pn_dd4a16df43dc73e10116]
[pii_email_72fbf7ddf7584b7c62b2]
[pii_email_807502a2fdbbe0cdc6b3]
[pii_pn_44a0bcf1cb7aed88d1b7]
[pii_email_057ce822c02bdc1a377d]
[pii_pn_659af7c7c5e4de9993b8]
[pii_email_79c05479414eae86f072]
[pii_email_bc6c8e4a66ebb68af5fd]
[pii_email_dabab0e6f8cf00339cfa]
[pii_email_bab9544c6d17eae10302]
[pii_email_2b7633b1bd7b462ff38a]
[pii_email_fcf6eeab8be484efedd7]
[pii_email_4123509476ef2cd9e2e8]
[pii_email_1dab4fa2efec46eead03]
[pii_email_2457869424b0886da930]
[pii_email_545f32d9e8fab23473a5]
[pii_email_499e1f0c66f8b9a2526f]
[pii_email_28c967ec1a4b6e6a006e]
[pii_email_008c4c1336344568c20d]
[pii_email_0f08bea01b7195951d9b]
[pii_pn_f35e43ee17b054ec999c]
[pii_email_93439c5655c79cb5af6b]
[pii_email_f4d4ae22098b463c3203]
[pii_email_036873ad78449453d88d]
[pii_email_55db20f1b05d9fc6ce8e]
[pii_email_cc6f825002d207f60b2e]
[pii_pn_2f3cf83ab2f025093599]
[pii_email_7229296b6386a9ae1058]
[pii_pn_0910b5986fb621b1dd21]
[pii_email_9cf9ab012c5024e8f52d]
[pii_email_953dc5666f892fe8d803]
[pii_email_10ac1bb874ab883e61ee]
[pii_email_48462ede47ae2c607873]
[pii_email_aa536a429b6b6b9764fd]
[pii_email_d83d462fdc6f47f0c0c0]
[pii_email_10b1374b23d00899d37b]
[pii_email_5778d715c687464f37b5]
[pii_email_fdb1682c18f7dfeb0d47]
[pii_email_c0e3a5b55cfff349cba7]
[pii_email_215a6201c0c7e8b216e2]
[pii_email_64fc695e71af9b2983b7]
[pii_email_3926f758f2772f4dc204]
[pii_email_c0a8230f1f69fe05510a]
[pii_email_8d5deb2e795e99db8274]
[pii_email_87fe7c08d390b2739fc1]
[pii_email_868d9fb32a318f107324]
[pii_email_b1548b3ebe390bdaf742]
[pii_email_7b7f227ad62995e49e37]
[pii_email_0f489a0b49e9380d79b3]
[pii_email_fd744261538579dd4462]
[pii_email_47beb6c8c7e602f654de]
[pii_email_52a0880689fee35482de]
[pii_email_7c004ad7feccfcdaa2b8]
[pii_pn_864bf58279f2f125e29e]
[pii_pn_2337f9fefd5ed66f8b3e]
[pii_email_1fd93a661552d2cc303f]
[pii_pn_2b2c3878c4bd30e6e95f]
[pii_email_1fc949961d4a6d8f185e]
[pii_email_58cd4dc8bd93dcca0df0]
[pii_pn_f55dba4fcde8d56c5b7a]
[pii_email_32a9cd1890fd053e53fa]
[pii_email_216cc431d702c405f4ad]
[pii_email_d99373dfa89915c597f1]
[pii_email_12a4c58da68b2ede179f]
[pii_email_5b2bbe263b28396b9099]
[pii_email_de6a349a3cde33367e91]
[pii_email_942eb602e5919162d23a]
[pii_email_ed79a2c7b96fad5ea0c6]
[pii_email_ba05052586f6c05f43d5]
[pii_pn_cae74d00df81518f3ec0]
[pii_email_2414527cc342b1bab49c]
[pii_email_23991466de9af3bab0c3]
[pii_email_a02b626d8098d1408585]
[pii_email_73a96b0341e4933ed9b7]
[pii_email_ddff21c56245cbb48385]
[pii_email_9f8d4d6b835a1c56e8f2]
[pii_email_450f0262610e118e87de]
[pii_email_3161fdd304bc253f9cfe]
[pii_email_4cca32b84a6bd4ee8657]
[pii_email_184879f62e74776f6e1b]
[pii_email_202a9351bc93c661367d]
[pii_email_ccb233f1c2d2bcf2e4e3]
[pii_email_a774d82eb66b0f8db9b8]
[pii_email_aaa200ab2e704a472419]
[pii_pn_382c4a9f1dd23d239eb0]
[pii_email_5e4e61b8eb6c47807507]
[pii_email_2acdf0a9518eec573101]
[pii_email_2129f9b8dd7e4a366f78]
[pii_email_24dcec87fde2972b22c5]
[pii_email_42e86452e3a7efef4d1b]
[pii_pn_4722e530f4f760c4a037]
[pii_email_845491bb8ee7725d695d]
[pii_email_8656b9341dba8e2815d4]
[pii_email_aa14ded4b0058e7cc2b8]
[pii_email_1dd33469b497a988f8c0]
[pii_email_76f8706602b9da7da7b6]
[pii_email_9dc827468a40cc82fd79]
[pii_email_ffedcd5b62e2c1381f6e]
[pii_pn_42da15d1a73e75b472af]
[pii_email_37244068e516a0de79d9]
[pii_email_f096de79851a3ae0de43]
[pii_email_f5503d28356c6df5bdd4]
[pii_email_3f720e3a0ffbd8e3a6cb]
[pii_email_bf53db425e40aff3ed87]
[pii_email_af9ad65455cca4974b9a]
[pii_email_de86a2716b35a62c27ba]
[pii_email_c5226c991dc4d7607b72]
[pii_email_996e5f8d24f3504e5dd6]
[pii_email_eff2da07c0ae7813f1a3]
[pii_email_8ac9302c04052e65723a]
[pii_email_35d9c9bdd7c075b7ff07]
[pii_email_6970264b17b5c1d871d3]
[pii_pn_ddb7874ff6b1c65098eb]
[pii_email_4c3c9bfb8ef45b6f753e]
[pii_email_2eba6bfba383c3964f6a]
[pii_email_4cbf4b62bc057e46f8ad]
[pii_email_7cccdc3fbec59cfebe62]
[pii_email_467533b56027d1a338db]
[pii_email_e76ba48bae8e6e7a8400]
[pii_email_cd1dd0afebfea6566b12]
[pii_email_d293cab30745aa17a72e]
[pii_email_bfb3892e7649882e57ed]
[pii_email_7eb27ff07d8a511855ac]
[pii_pn_486f5890ee93583aaf32]
[pii_email_25af200cc0d82c72f980]
[pii_email_0f38b523d68b02f1df12]
[pii_pn_312ea5c3199fbcc07328]
[pii_email_d9222b259c9015ed4416]
[pii_email_c64684897b28e7496011]
[pii_email_ce17081926ccb61fbbe5]
[pii_pn_397c9351083f45e431bd]
[pii_email_d8f2a009371be1ba96ad]
[pii_email_3380762cf4c0c767607f]
[pii_pn_26c38d1366d3218dc6c7]
[pii_email_b9246b47d9c7a273002f]
[pii_email_b995928a4e14dd446387]
[pii_email_a55f19b27d1db1cf7257]
[pii_email_e8439c61385c018a82f8]
[pii_email_3410f64be96dea77c60d]
[pii_email_cc9ecf7009b67a303f3b]
[pii_email_838b2272e97469bd4a0f]
[pii_email_e9f1ed50b181b4d6169b]
[pii_email_4afb1127f464e0cfb8b9]
[pii_email_ad7da5c8c73e37f33f34]
[pii_email_55a175dcd8432d8c7c43]
[pii_pn_21bfb9a7ff857ab3ccac]
[pii_email_b66d94d0c843231097f6]
[pii_email_8d299788ab5137fd8518]
[pii_email_d0e5591b56fcf4f4c35a]
[pii_email_82674d913519699cb8c1]
[pii_email_c89c85be30ec7e23ad03]
[pii_email_ae9fd3a0594d91b99302]
[pii_email_25ded7ae1d4fb481970d]
[pii_pn_bd74f1f12b11539a892d]
[pii_email_72fc6bc6145a240768db]
[pii_email_f56710b3ee6485e4d44f]
[pii_email_5c5c381711283d15651d]
[pii_email_d11e9875f8540b944290]
[pii_email_16a6f43c35ac13516adb]
[pii_email_ad2a88db36e6138b276c]
[pii_email_97203e38a34837406de3]
[pii_email_30f3eb6f31cd6cea6cb5]
[pii_email_74d9734e50e9834d9366]
[pii_pn_cc8d6ae48528f63e9732]
[pii_email_259d72d9c835ce96fb96]
[pii_email_f71aaa926659c5006ec5]
[pii_pn_45d259898279fd9efd64]
[pii_email_4f2d450865a25fa2e770]
[pii_email_d2e922e1d489932eaf74]
[pii_email_c66af18207ba910615cc]
[pii_email_473d820560a103b1e114]
[pii_email_2b4a60f2a94fb9c977ba]
[pii_pn_2941d3ea3e9b830725a3]
[pii_email_34f303479c266e9207d8]
[pii_email_70ff6cee3fb267ea5b28]
[pii_email_e1fb7237fa50c7f9313b]
[pii_email_a14b6768acfed3d4153f]
[pii_email_900a845939fc7f4a1014]
[pii_email_5d710bc63919978b79d6]
melhores [pii_email_4f4119728a319873083e]
[pii_email_39efd4216e4a0b0043d6]
[pii_pn_13423f5a23da3264ef8b]
[pii_pn_b6b0bca291518a468885]
[pii_pn_80cbc086e32ee6660bc6]
[pii_email_7e5a621281f0a4f79004]
[pii_email_6349c236ce07652d7d82]
[pii_email_0c59716a9c5c6170cd90]
[pii_email_952fa362ed41a21e0bd5]
[pii_email_64a8d2b69f5f62f4aa61].
[pii_email_9410163724f87d10d3cf].
[pii_email_10988133ac336b2ba96d]
[pii_email_9a76f38af82024aa5a87]
[pii_email_88d8ec4023e42ea0d5ea]
[pii_email_06ea10e0cc4d5eaa8d20]
videos bons [pii_email_2eee301a49b616a399c6]
[pii_email_d8260e55824af5b7193b]
[pii_email_9e85aceb85b7f96f641c]
[pii_email_42967f72ca162c3d3c96]
[pii_email_39613d70bd8d15d01f18]
[pii_email_8ed5c70393c69006cb69]
[pii_email_293b20a9b92f08d6cdda]
[pii_email_da40afb456e2ce324be2]
[pii_email_933603774a75e5174103]
[pii_email_aa0d21d1e72e9bb32194]
[pii_email_e32ef86799ad26e76bbb]
[pii_email_f076bed13f985ec411a8]
[pii_email_4cd4d46e21d0c10a1796]
[pii_email_7ef4f4c35cccb6f46663]
[pii_pn_b55a51f556eac2193602]
[pii_email_c800b367d30e775279b2]
[pii_email_9cf08eee69dff49eeb37]
[pii_pn_e4be4520a9facba64a42]
[pii_email_72c4b5e217f8c9d9157e]
[pii_email_a6a3d99afd160baa221e]
[pii_email_e58ece745d35e262841f]
[pii_email_3cc73a25726b19f2950e].
[pii_email_eb928fe62fce97692695]
[pii_email_fd3e7c1a10a580bacf41]
[pii_email_8f40eede25a713f7dadc]
[pii_email_7440a82144e55465da5c]
[pii_email_9b0c90ad875ed60f1a6b]
[pii_pn_08b9aa4e462de8f42774]
[pii_email_f402f3703478889c0fe9]
[pii_pn_063dcb0fdc87a763ff84]
[pii_pn_bb98abbdd415de4d32c7]
[pii_pn_b45459e8fed457691c89]
[pii_email_c8beff87fc567e36bb34]
[pii_email_6e16249178cf9c1c67d2]
[pii_email_87098acbc8b50a755df4]
[pii_email_73d9bf212c2ca9dfe3dc]
[pii_email_1f96a42b05f05d87b53e]
[pii_email_9a9240f347b56ce890df]
[pii_email_fbc223f4ab5ed42ba67d]
[pii_email_f71255ea430fd343cfcb]
[pii_email_eb78746c059daa391446]
[pii_pn_da3301714e8c47fe0875]
[pii_email_e45befff5193eacbb6a8]
[pii_email_9f8a713c04b0d50bd4ff]
[pii_email_51e950629b961543d164] oi
[pii_email_d3a7bfbdb843b92d6842]
[pii_email_216557fbbcd66fcbdfc3]
[pii_email_fb88d42a41fa165e4cb5]
[pii_email_2c960870a9f809455e47]
[pii_email_887f9c47d3332db3add8]
[pii_email_f72bbef290e65600c947]
[pii_email_94e078d6f9f00bcd201b]
[pii_pn_f72886b68024eb6ee67d]
[pii_email_bb2b40b522f187724d13]
[pii_email_0d0336e221597a9e35ba]
[pii_email_43c82e05a7fc4cacec8e].
trocas e [pii_email_9d36631933e1809bc821]
[pii_email_8f2df5b71cfdae3c632c]
[pii_email_98acc239225c86b0cc38]
[pii_email_74ddf0ef06cfd8ed2d04]
[pii_email_ed582f36c3c614f9be91]
[pii_email_65eb601967e45010a508]
[pii_email_f2b40bc10846eb87b27b]
[pii_email_89201dcf7c3582a7da77]
[pii_email_be781a2131e0a36f2c1d]
[pii_pn_88e18f2ec47d5a50059c]
[pii_email_937a02b5412110f09eb0]
[pii_email_543b1659c815bf376842]
[pii_pn_9bc69dfdbe50c47e44ab]
[pii_email_7465d0cde334d32972d9]
[pii_pn_4866bc444417a357d4a6]
[pii_email_176f1cc26dc30a9d44b3]
[pii_email_9688307cd56d7312518b]
[pii_email_d6ba3ff7e2fdc5ca7361]
[pii_email_0f96f71f213b9c488071]
[pii_pn_6e1a69c10d7cf75ee63b]
suporte.acesso [pii_email_c10868e632ec966da8ad]
[pii_email_1533ee477aa8594f1174]
[pii_email_51d66af3a678de554a6e]
[pii_pn_c9d6156220e3d8ab096b]
[pii_email_5ee387c0c551b3039e70]
[pii_email_8c28f0b9c5ef30abee14]
[pii_email_b9b38141361a437faeb6]
[pii_email_41986ec68ed9b5ef2664]
[pii_email_6e9c8a6fce117946da5e]
[pii_email_cfc2c004deec19b23baf]
[pii_email_ab7b6ff4e90e1ff5058a]
[pii_email_f762b16657cc4ce83932]
[pii_email_642f87fa885e80d1860d]
[pii_email_4effeb0850a9b7b01562]
[pii_email_628bf04a753cba0e6900]
[pii_email_7634575ccb55be31125c]
[pii_email_410e10fac62a634f4c6b]
[pii_email_87d969892c68aadaede7]
[pii_email_95a119133dd74b07260c]
[pii_pn_bd7f55b4dbbfdfac0e71]
[pii_email_fb744d11a3ed05e5c111]
[pii_pn_465985b49511033e9464]
[pii_email_13c8635689b34943f834]
[pii_email_7c39bc5746f0d2df00c7]
[pii_email_da0cd1da6522be9d39d7]
[pii_email_f9ce0595bfa3895dea61]
[pii_email_489b0a3438fbf6fa6943]
[pii_email_5577ba49bd241a2a1038]
[pii_email_782be14154b8d5ad84f9]
[pii_email_b5e72b038fd718be92e1]
[pii_email_f9122bc8445d5a7298cf]
[pii_email_6079456d4446944535e0]
[pii_pn_6c707b32ebdf3aa59fc6]
[pii_email_43d5ef7fa8da0af34fab]
[pii_email_62d9e627dfc4e3136ace]
[pii_pn_e36a3dce1d1b5ce2bc37]
[pii_email_59a60f98b693da1e09b4]
[pii_email_58f5cd94bbf464ec059a]
[pii_pn_aed3903db195039f2211]
[pii_email_7dd8f4d92755600f621c]
[pii_pn_2a2d0dcb5fbf88045f82]
[pii_email_ba421f4e6027df614a46]
[pii_email_d79eb8bb31d4410d5e2f]
[pii_email_0e7fd286b573ff758214]
[pii_email_c6afc6cdd0bd01cde952]
[pii_email_07d7df3d7555eaae906e]
[pii_pn_5e9f47e152fe5d192f95]
[pii_email_2331c21e49e4bf765639]
[pii_email_8e06c5ae1db60c340eb0]
[pii_pn_105d15c7f336e7683131]
[pii_email_f65e0ca50aa0e2cee1cb]
[pii_email_073fdf57b0c67e12966f]
[pii_email_b1584876c01cc822fb9c]
[pii_email_aa68b712da2951341712]
[pii_pn_cefe2bcfe88ff4ba89a1]
[pii_email_41380f51a5b890bb3c65]
[pii_email_4cf4696e94cbb88b0976]
[pii_email_ddbbc7ca235a27249f5f]
[pii_email_30901164339916c5341b]
[pii_email_30aa15f028024959331d]
[pii_pn_e3e9edf423bbd707bbd9]
[pii_email_06757bc5ffe54a5a79d8]
[pii_pn_3c06ce0d753bc9f8f3b6]
[pii_email_7578f60f6cf06bcc6515]
[pii_email_1166d59dab3703dd4f73]
[pii_email_70c98dbac0fd70fae270]
[pii_email_137c00292fb5e866fc57]
[pii_pn_fac8b394753008527d2b]
[pii_email_b4adaca883ed7321e387]
[pii_email_9e2b7338ed72970114ee]
[pii_email_7e43ceb01bf07cdd7672]
[pii_email_aca53f52f543e093c243]
[pii_email_e51592ff4abd3a38924f]
[pii_email_c2e08c4d62fa73641420]
[pii_email_6ec15d941b663507b779]
[pii_pn_0874e33ea50be8697f8d]
[pii_email_64dea34777f31840a63b]
[pii_email_5083ff75b6543e1e1b1f]
[pii_email_aa1a0a46b24d65072837]
[pii_email_13f6f215eb39250482e3]
[pii_email_3f22c699d1bb3f2e6d2b]
[pii_email_a41aa47e078a6f225151]
[pii_pn_7a32868ee3fc85461c83]
[pii_email_53282642ecbf7636a96e]
[pii_email_b4e891cdcdd856265ea2]
[pii_email_3dba707dd842ec70be30]
[pii_email_8f689f1b88327cbfbeb0]
[pii_email_7c10671c05f8d5574b5a]
[pii_email_398f86f5606a42692b63]
[pii_email_caef7f0e41d937a228d8]
[pii_email_ea569b92469162561061]
[pii_email_060f4af9fe3f51d2d958]
[pii_email_f3eb0a40a17a2b1efa9a]
[pii_email_0bc3da1ba01eb999f367]
[pii_email_3c11e9d5d8a0274cbc34]
[pii_email_ba988ac5293d1cbbfbec]
[pii_email_544d9f73a333cbab0dd3]
[pii_email_7b399b28505529153655]
[pii_email_61ca9997fcd960661123]
[pii_email_3b334fc03073804fafa8]
[pii_email_28ad7367dd4084836677]
[pii_email_bae0c974e1aaec866d82]
[pii_email_28bdae848231fd9b0ce6]
[pii_pn_39f2bab81379137ee054]
[pii_pn_b3d2d63570ccdb4550dc]
[pii_email_8110fd93bcd01eb3e4a5]
[pii_email_cd89dccb29a4e964497a]
[pii_pn_15ee0b543103390af263]
[pii_email_2dbeed57235add0a287f]
[pii_email_7a32202e105fdee36999]
[pii_email_c9feccb5d367d4235418]
[pii_email_ee2e7b80c8518e1aef95]
[pii_email_47d3a635c59c09062965]
[pii_email_4155019b836b3c774534]
[pii_pn_3d2384f577d6c6df2597]
[pii_email_23f6e45003b00f30cfd4]
[pii_email_1b39717b5aae717b880c]
[pii_email_da70fd5ecceaba0dd3a2]
[pii_email_90a039d701528076c378]
[pii_email_abf05afb0e0352ef5b11]
[pii_email_3ebc4ba540cd8dbde239]
[pii_email_2825e3590d54c641d32a]
[pii_email_d6d2f5e0f54e5e4dfe24]
"[pii_email_2667e7bc802e35843a5b]"
[pii_email_96922135dc6aacb19e17]
[pii_email_5062b8ecd7313777db88]
[pii_email_01c44b24ec71843a2255]
[pii_pn_2a06a942bcbf5a11b557]
processo seletivo [pii_email_b85a5506f7b34489918d]
[pii_email_31467e70dd7b008ab25a]
[pii_email_b31cdb3a44043d8d5a43]
[pii_email_ee992a6b89d0e3ff302d]
[pii_email_fb07e296a870e4a3349f]
[pii_email_1eb35443797669615809]
[pii_email_4259b82d2911a3a3a5d4]
[pii_email_470b7df4a7cae188e240]
[pii_email_f5fb956d6a12478521ac]
[pii_email_423e9552a3245f1b2897]
[pii_email_52361f0a11b9debee384]
[pii_email_ffd0ad64e71475648249]
[pii_email_485d03a85d7242d0bc9f]
[pii_email_f8c8d493e01413b04039]
[pii_email_ab5aa755c16efcac6522]
[pii_email_d1b827f1d58e136a3657]
[pii_email_12bf30922aa88585e311]
[pii_email_09f3448098f4b068e550]
[pii_email_8f9353eedcb033c95f4a]
[pii_email_ce6ba071cc4758641387]
[pii_email_aef6461a75a1829b61f2]
[pii_email_9314c5da63715226040d]
[pii_email_79efd3a29160b30885c5]
[pii_pn_7198c3e9675f061c9f1b]
[pii_pn_14ce89bc1627f0160a14]
[pii_email_373f27f472dfd142b9d1]
[pii_email_0cd81888a5fe7246075b]
[pii_email_bb619abf69bbea8c90c2]
[pii_email_dfed4fac4f4db4633d5e]
[pii_email_5a38d7f7460cdf8e4642]
[pii_email_c624210c55b6647e0c20]
[pii_email_322d1656348d22967416]
[pii_email_c95738a374b33cff9956]
[pii_email_c4f4bd996a6fa2551548]
[pii_email_cd78a068050f1267fe04]
[pii_email_178b1b8c8e4dc1c33c0f]
[pii_email_67907b59736751561a23]
[pii_email_111dd8f5fa26379dc099]
[pii_email_e750a344399e4cf95d14]
[pii_email_bb8bf9e98ec7acd16ded]
[pii_email_11f886efcc55e066ac5e]
[pii_email_5957cdb5408a8ee604df]
[pii_email_6da2bf6e21c44979ce20]
[pii_email_a273c8571f360d10607a]
[pii_email_c5e33ad78ca2613b74e2]
[pii_email_b8c6f7642f2d5243fa48]
[pii_email_b88b0b69a5712c7bd5c1]
[pii_email_e750a344399e4cf95d14]
[pii_email_9a6747553e02a469600b]
[pii_email_841b43fada260254c8d3]
[pii_email_7bc76c5bb446f72a50a8]
Related posts