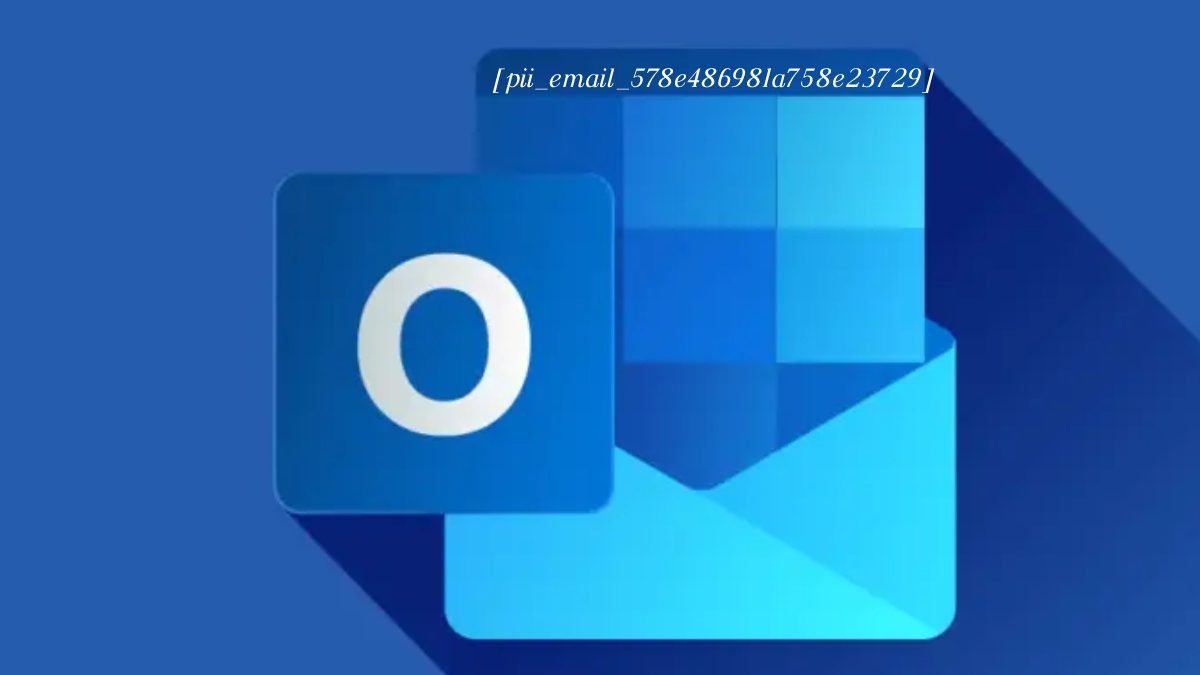 pii_email_578e486981a758e23729
A complete step-by-step guide on how to resolve error code [pii_email_578e486981a758e23729]. Why did this Microsoft Outlook error occur?
Email is critical in the business world, and it does not communicate with suppliers, customers, employees, and customers. There are several various apps that you can use to receive and send emails when it comes to emails. But Microsoft Outlook is one of the maximum popular applications for sending and receiving emails. Microsoft Outlook safely handles all your notes, data, emails, contacts, tasks, and calendar meetings.
The Microsoft Outlook mail management system (MS Outlook) is well managing. It offers various options like folder browsing, email sorting, etc., so many applicants select Microsoft Outlook instead of Google Gmail. You will easily add multiple email accounts during this software according to your hassle-free needs. Microsoft Outlook services are company off in most day-to-day activities, such as management reporting, staff inquiries in large companies.
Sometimes Microsoft Outlook displays errors, and [pii_email_578e486981a758e23729] is among the common mistakes that stop work. However, to fix this error, you want to follow some easy methods provided below. You can also try the means one by one to resolve the mistake [pii_email_578e486981a758e23729].
Main causes of the error [pii_email_578e486981a758e23729]:
Microsoft Outlook includes an Internet application for ease of use and a simple interface. If you are not
While accessing Outlook online application, you will encounter this error.
One explanation for the error is that multiple Microsoft Outlook accounts are regularly using without
deleting the cache or cookie.
If you use the older version of Microsoft Outlook, you will see the error [pii_email_578e486981a758e23729].
Storage issues can also be the cause of this error.
When we install something from Google, occasionally, an error or something malicious occurs as well.
Application. It will be that you just downloaded Microsoft Outlook with corrupt files.
When you are using a banned version of Microsoft Outlook, you will see this error.
Different methods to Correct the Error [pii_email_578e486981a758e23729]:
Method 1: Install the legal variety of MS Outlook:
The uncertainty you install the Microsoft Outlook submission from a source other than the official Microsoft website will know as illegal. It is not optional to use illegal versions for high-security threats like sending and receiving emails, [pii_email_578e486981a758e23729].
First of all, you need to uninstall the previous version of Microsoft Outlook.
To do this, you must go to the "Settings" option and press the "Applications" button.
After tapping on applications, you will see the complete application list installed on your computer, search for Microsoft Outlook
in the list, open it and continue with the "Uninstall" button.
The Microsoft Outlook uninstallation process will take a few seconds.
Now install the new updated version of Microsoft Outlook from Microsoft's official website and install it by pressing the "Install" button.
After performing the above steps, you will replace the illegal Microsoft Outlook client on your computer with a legal client.
Method 2: clear cache and cookies:
The [pii_email_578e486981a758e23729] error will quickly resolve by clearing the cache and cookies. So you need to follow the simple steps given below to clear cache and cookies.
First, sweep the browser from your PC, and at the highest, you will see the "More" options tab, which is direct by three dots.
Lines, and you have to continue it.
Will display Many options on the screen; you have to choose the button "More tools."
After that, choose "Clear browsing data" in the next window, and now the different options will show on your display screen.
Choose the "Cookies" button and go to the "Cached images and files" tab.
If you ever notice the approval SMS, press the "Delete or clear data" button.
Close the page and open the Outlook account and see if the [pii_email_578e486981a758e23729] error code persists or not.
Method 3: Disable all Outlook extensions:
Many extensions exist in Microsoft Outlook that stops communication in Microsoft Outlook. However, many of them can reason an error because they modify Microsoft's certification terms and conditions. If you determine these extensions in your Outlook app, you should disable all extensions.
You must write the extension in the address bar field. Now move the cursor to the section at the bottom, where you will see an inventory of attachments. Use a switch to
remove the extension, which is currently allowed.
Now close the Microsoft Outlook app and then rerun it to see if it works fine.
Method 4: Update Microsoft Outlook to Fix [pii_email_578e486981a758e23729]:
It is mention to use the former version of Microsoft Outlook; You want to update the current version of Microsoft Outlook from Microsoft's official site. Before updating Microsoft Outlook, be sure to check whether the PC function matches Outlook.
To do this, you obligation to go to the "Settings" option and choose Update> Security> Windows Update.
Now you will see that there are pending updates in Microsoft Outlook.
If Windows Automatic Update is restricted, you must update it to use the latest Microsoft Outlook update.
Windows will automatically do all the work and updates in Microsoft Outlook.
If you cannot get a Windows update, visit Microsoft's official site and install the new version of Microsoft Outlook.
Method 5: Sign in to a sole Microsoft Outlook account:
The [pii_email_578e486981a758e23729] error happens when using many accounts on a single computer or laptop; To fix the error caused by this, you should deactivate all accounts and only use one account.
In this case, it is optional that you log all books available and then log in to an individual account.
After that, remove the store, browse history and cookies from the Microsoft Outlook application.
This will probably fix the error pii_email_578e486981a758e23729.
Conclusion:
In conclusion, for receipt and sending emails, Microsoft Outlook is among the most excellent programs. Sometimes problems arise while using Microsoft Outlook due to the presence of errors such as [pii_email_578e486981a758e23729]. If you were meeting such an error, it is essential to solved it. We have provided top-notch means to help you fix the pii_email_578e486981a758e23729 error code and keep your Microsoft Outlook running smoothly without any difficulty.
Read Also: 
How to Solve this [pii_email_9a524899afdaa211c911]
Fix [pii_email_578e486981a758e23729] Microsoft Outlook error
100 % Fix [pii_email_228c94951a116866b440] Error Code
How to fix the error [pii_email_7bc76c5bb446f72a50a8]
How to Resolve the Error [pii_email_b88b0b69a5712c7bd5c1]
You can also check another error in Outlook – pii_email_578e486981a758e23729
[pii_email_45995450d9342a93d55c]
[pii_email_f096de79851a3ae0de43]
[pii_email_8c829561a8d50e3e8386]
[pii_email_9acfb5c5fb8c15c03bc3]
[pii_email_1e6f2c6cdc29e9770b55]
[pii_email_3914d0d6bb947fad3351]
[pii_email_183b7ca55780ebfb72cf]
[pii_email_e57407bf1daf1bd0c2f9]
[pii_email_f899e6915ec5fbce032b]
[pii_email_0062ca8994d6af09e232]
[pii_email_e43ebd016a192406b125]
[pii_email_228c94951a116866b440]
[pii_email_246de12c47710c114463]
[pii_email_f4c2c602de1958dd0ca3]
[pii_email_2d8c3eb986769fd38cf4]
[pii_email_e5641cfae3cfc66b6325]
[pii_email_bbe29fe11c1a373dff30]
[pii_email_8c829561a8d50e3e8386]
[pii_email_9a524899afdaa211c911]
[pii_email_2b7633b1bd7b462ff38a]
[pii_email_11f886efcc55e066ac5e]
[pii_email_51e950629b961543d164]
[pii_email_953c65e5ac632239018d]
[pii_email_ad4ae20bf52e384cc0dd]
[pii_email_204a1e9d2baf600707b6]
[pii_email_5f1082859a7b47e02374]
[pii_email_42fc1fd2f2cb1f710e55]
[pii_email_3cf491465be0b0b1db0c]
[pii_email_c528b92b17eedb3e5e33]
[pii_email_59b488f76aa9cad98800]
[pii_email_2aeac4ba1236ce469006]
[pii_email_23991466de9af3bab0c3]
[pii_email_fd42e2e17733ef139763]
[pii_email_e92df37a9586d14746fb]
[pii_email_c5e33ad78ca2613b74e2]
[pii_email_a8666d506055e571381d]
[pii_email_efde084875361f7c222c]
[pii_email_49dac24328fc858705a5]
[pii_email_6b610c4c3f19a9bc8dce]
[pii_email_432e72afa5ca0c79246e]
[pii_email_f1e59c650baed751245b]
[pii_email_e750a344399e4cf95d14]
[pii_email_7cedc250793bb2f02cab]
[pii_email_ba766cb0c5c67bd5e5a9]
[pii_email_7a5a505c48bccb7a0599]
[pii_email_ff421788dac2995b4b0d]
[pii_email_137c00292fb5e866fc57]
[pii_email_99ac217b58c550919ba7]
[pii_email_aca53f52f543e093c243]
[pii_email_cad6897ac738ce726276]
[pii_email_33f5d696d68843d95791]
[pii_email_be87727a1b42d303e516]
[pii_email_8ca4ed8d7a42624269c6]
[pii_email_a298b3fbeb85696873b7]
[pii_email_f45ddbd0a495fe4a22d1]
[pii_email_95bba00e63b3de7d9679]
[pii_email_52a0880689fee35482de]
[pii_email_3161fdd304bc253f9cfe]
[pii_email_70d1b2a8ecb1d4a02f04]
[pii_email_2d8b88357322f847ac74]
[pii_email_2d8c3eb986769fd38cf4]
[pii_email_41e390d8a155332dc382]
[pii_email_75d5edc523a75ebd6626]
[pii_email_32500610c6f97d3f198f]
[pii_email_4d3b417a366e66a18e46]
[pii_email_5195b67b4a9b259cc833]
[pii_email_0eb2effd9ee98450d67d]
[pii_email_cc9ecf7009b67a303f3b]
[pii_email_7e5a621281f0a4f79004]
[pii_email_c11ee985ec3fa2d50f21]
[pii_email_4122abb1ec790f6592f4]
[pii_email_9e85aceb85b7f96f641c]
[pii_email_86a378a10e0d80e3b2be]
[pii_email_b4c57233630dbdd090cb]
[pii_pn_b800ab674ac3928fe035]
[pii_pn_634ab11647f1e89bea00]
[pii_email_b90cce52e9daaaa5f464]
[pii_email_9cf9ab012c5024e8f52d]
[pii_email_e76ba48bae8e6e7a8400]
[pii_email_f5287b9ca2c928a19e0e]
[pii_email_41129a957c08447b687e]
[pii_email_485d03a85d7242d0bc9f]
[pii_email_887f9c47d3332db3add8]
[pii_email_f5503d28356c6df5bdd4]
[pii_email_61ca9997fcd960661123]
videos bons [pii_email_2eee301a49b616a399c6]
[pii_email_694aab7a1f49bbb2dfb5]
[pii_pn_6cc2e13ed2914c87f8f1]
[pii_email_70171382d0eb92b5decc]
[pii_email_a867502c6be2fce9d1e4]
[pii_email_1fc988ed59f7f58f6db6]
[pii_email_af9ad65455cca4974b9a]
[pii_email_a02fa448cf0ce4c38dcb]
[pii_email_384c189f3fabbf7f93b1]
[pii_email_e636dcea7b14fa8c3ee3]
[pii_email_a273c8571f360d10607a]
[pii_email_25af200cc0d82c72f980]
[pii_email_7dd8f4d92755600f621c]
[pii_pn_4eb85dd836ba62fa04e0]
[pii_email_9fe7fb6646a51bed911e]
[pii_email_d534453d26d1aecb9a85]
[pii_email_abad07d46ec9fab6bac9]
[pii_email_ebdcb57c98e220f8e959]
[pii_email_08b95414a8c87832d5d3]
[pii_email_68cc26d1eca4e3cfc611]
[pii_email_193cfaca48f61cc982e1]
[pii_email_405f0bbbbf98cf422c3d]
[pii_pn_486a1ef7addbd4a5dcb0]
[pii_email_4123509476ef2cd9e2e8]
[pii_email_ddff21c56245cbb48385]
[pii_email_1d7b4857a4d546a01274]
[pii_email_1b732f0a96816a6deab3]
[pii_email_ffedcd5b62e2c1381f6e]
[pii_pn_a026c6128409caf87b19]
[pii_pn_0a2032ac8f9c88faf63a]
[pii_email_3572f7a0d8e42e82f3bb]
[pii_email_ab147b401da03c5ee7ef]
[pii_email_c0e3a5b55cfff349cba7]
[pii_email_e8d15494da646509fe7c]
[pii_pn_09375afb720e89f92fe9]
[pii_email_12daf79afc1455d845b8]
[pii_email_5ee387c0c551b3039e70]
[pii_email_11c1d0451bc4bb3d6804]
[pii_email_aa1a0a46b24d65072837]
[pii_email_aa536a429b6b6b9764fd]
[pii_email_6a0aba8e5d80f928ccee]
[pii_email_1064726de060564e13e7]
[pii_email_c9f8730280cf00e16aea]
[pii_email_2acdf0a9518eec573101]
[pii_email_073fdf57b0c67e12966f]
[pii_email_a55f19b27d1db1cf7257]
[pii_email_0ce62f10b551e2851387]
[pii_email_f4df4c866d112c8ce68d]
[pii_email_ed582f36c3c614f9be91]
[pii_email_28ad7367dd4084836677]
[pii_email_9b0c90ad875ed60f1a6b]
[pii_email_a298548aadb3e08028f3]
[pii_email_0e543f946068d9432fd6]
[pii_email_f9f6d7d9ebde75fd1326]
[pii_email_10ac1bb874ab883e61ee]
[pii_email_2129f9b8dd7e4a366f78]
[pii_email_c89c85be30ec7e23ad03]
[pii_email_c64684897b28e7496011]
[pii_email_ad7da5c8c73e37f33f34]
[pii_email_ad2a88db36e6138b276c]
[pii_email_bfb3892e7649882e57ed]
[pii_email_373f27f472dfd142b9d1]
[pii_email_1fd93a661552d2cc303f]
[pii_email_d3a7bfbdb843b92d6842]
[pii_email_bab188e0afc448b4a13d]
[pii_email_3410f64be96dea77c60d]
[pii_email_a02b626d8098d1408585]
[pii_email_4f2d450865a25fa2e770]
[pii_email_1fc949961d4a6d8f185e]
[pii_email_ba421f4e6027df614a46]
[pii_email_b2bb3affadc918ced087]
[pii_email_ba05052586f6c05f43d5]
[pii_email_74ddf0ef06cfd8ed2d04]
[pii_email_7578f60f6cf06bcc6515]
[pii_email_f5fb956d6a12478521ac]
[pii_email_a11c655de1aa36b36e88]
[pii_email_a8861cd264cd944137c5]
[pii_pn_dfc4482c28d9e91b05dc]
[pii_email_1eb35443797669615809]
[pii_email_03c6acc7fdc5035e6a1b]
[pii_email_afd7f198cfdecdad170b]
[pii_pn_4722e530f4f760c4a037]
[pii_email_ffd0ad64e71475648249]
[pii_email_259d72d9c835ce96fb96]
[pii_email_8e06c5ae1db60c340eb0]
[pii_email_cd78a068050f1267fe04]
[pii_pn_7b6cc94d71c5d7726b24]
[pii_email_56048f36830f59863f70]
[pii_pn_4975a5f186295400fe86]
[pii_email_87d969892c68aadaede7]
[pii_pn_e6a2a5cd004080e20c3b]
[pii_email_da9d985852b786d30eab]
[pii_email_7ef4f4c35cccb6f46663]
[pii_email_682ac64449c10afcc868]
[pii_email_7e43ceb01bf07cdd7672]
[pii_email_7440a82144e55465da5c]
[pii_email_156ace0e145b9121a257]
[pii_email_3dba707dd842ec70be30]
[pii_email_322274a68b5b548fa1fc]
[pii_pn_5c3d82025a54925b6767]
[pii_email_ae9fd3a0594d91b99302]
[pii_pn_659af7c7c5e4de9993b8]
[pii_email_2691d855fe6f6be75143]
[pii_email_58f5cd94bbf464ec059a]
[pii_email_bcef424a7953e845d981]
[pii_email_4259b82d2911a3a3a5d4]
[pii_email_d83d462fdc6f47f0c0c0]
[pii_pn_e33594bff6d4c72d0e9d]
[pii_email_9f8d4d6b835a1c56e8f2]
[pii_pn_08008e007e6bd0bcd833]
[pii_email_499e1f0c66f8b9a2526f]
[pii_email_ebd1a8959adf8f790a28]
[pii_email_410907f645fbb349e08b]
[pii_pn_cc2d1c275a23ae010570]
[pii_email_3e65aa7397c378688a00]
[pii_email_7a4872b0ec8dc9a6a64c]
[pii_email_bf08d60e5a97d7ab01ef]
[pii_pn_88be1a6b55f6fbe13e54]
[pii_email_3b334fc03073804fafa8]
[pii_pn_5249d9fbc1bd4eab632c]
[pii_email_9410163724f87d10d3cf].
[pii_pn_6e185b08576ee4115111]
[pii_pn_382c4a9f1dd23d239eb0]
[pii_pn_42da15d1a73e75b472af]
[pii_email_4cd4d46e21d0c10a1796]
[pii_email_2457869424b0886da930]
[pii_email_07fdcba16561d7eba656]
[pii_email_9984a6d1a089da76d40b]
[pii_email_f9122bc8445d5a7298cf]
[pii_email_30aa15f028024959331d]
[pii_email_e6a91128bbcc5a4757f0]
[pii_email_b1584876c01cc822fb9c]
[pii_email_8fbad926e455ac156906]
[pii_email_42e86452e3a7efef4d1b]
[pii_email_0916d6186d6f299db23c]
[pii_email_72fbf7ddf7584b7c62b2]
[pii_email_9dc827468a40cc82fd79]
[pii_email_fd744261538579dd4462]
[pii_email_34f303479c266e9207d8]
[pii_pn_21bfb9a7ff857ab3ccac]
[pii_email_578e486981a758e23729]
[pii_email_dfed4fac4f4db4633d5e]
[pii_pn_1c917162f3e0d99b916f]
[pii_email_f7fcea964c820c4154df]
[pii_email_cd89dccb29a4e964497a]
[pii_email_216cc431d702c405f4ad]
[pii_email_c797a2e942ac7a54c323]
[pii_email_28c967ec1a4b6e6a006e]
[pii_email_e1fb7237fa50c7f9313b]
[pii_email_4effeb0850a9b7b01562]
[pii_email_6349c236ce07652d7d82]
[pii_email_d8f2a009371be1ba96ad]
[pii_pn_0910b5986fb621b1dd21]
[pii_email_ed79a2c7b96fad5ea0c6]
[pii_email_cbf220d55083a21c1ffe]
[pii_email_e58ece745d35e262841f]
[pii_email_6455d34b6d56df0677c5]
[pii_pn_063dcb0fdc87a763ff84]
[pii_email_9a9240f347b56ce890df]
[pii_email_7c004ad7feccfcdaa2b8]
[pii_pn_864bf58279f2f125e29e]
[pii_email_2aeac4ba1236ce469006].
[pii_email_ee992a6b89d0e3ff302d]
[pii_email_184879f62e74776f6e1b]
[pii_email_4cbf4b62bc057e46f8ad]
[pii_email_937a02b5412110f09eb0]
"[pii_email_2667e7bc802e35843a5b]"
[pii_email_88d8ec4023e42ea0d5ea]
[pii_email_f402f3703478889c0fe9]
[pii_email_0312c795120577f2acae]
[pii_pn_09418c10bee468808cc4]
[pii_email_8656b9341dba8e2815d4]
[pii_pn_397c9351083f45e431bd]
[pii_email_7634575ccb55be31125c]
[pii_email_52b1e996ea29eba1b80a]
[pii_email_0f38b523d68b02f1df12]
trocas e [pii_email_9d36631933e1809bc821]
[pii_email_8f2df5b71cfdae3c632c]
[pii_email_782be14154b8d5ad84f9]
[pii_email_4cf4696e94cbb88b0976]
[pii_pn_08b9aa4e462de8f42774]
[pii_email_8c28f0b9c5ef30abee14]
[pii_pn_26c38d1366d3218dc6c7]
[pii_email_2331c21e49e4bf765639]
suporte.acesso [pii_email_c10868e632ec966da8ad]
[pii_email_58cd4dc8bd93dcca0df0]
[pii_email_90a039d701528076c378]
[pii_email_7c39bc5746f0d2df00c7]
[pii_email_7cccdc3fbec59cfebe62]
[pii_pn_dd4a16df43dc73e10116]
[pii_email_9410163724f87d10d3cf]
[pii_email_f3eb0a40a17a2b1efa9a]
[pii_email_c52af805347c2e7c4b3f]
[pii_pn_071fe35f6cdd0379b380]
[pii_email_f8c8d493e01413b04039]
[pii_email_0c01db3e936ace3bd906]
[pii_email_1cfd3f4f9f5eaa4f15d2]
[pii_pn_486f5890ee93583aaf32]
[pii_email_30f3eb6f31cd6cea6cb5]
[pii_pn_44a0bcf1cb7aed88d1b7]
[pii_pn_15ee0b543103390af263]
[pii_email_d063acd106cf981e1778]
[pii_email_0db4c7377a6d296af987]
[pii_email_5083ff75b6543e1e1b1f]
[pii_email_41380f51a5b890bb3c65]
[pii_pn_b45459e8fed457691c89]
[pii_pn_ddb7874ff6b1c65098eb]
[pii_email_952fa362ed41a21e0bd5]
[pii_email_bf53db425e40aff3ed87]
[pii_email_322d1656348d22967416]
[pii_pn_80cbc086e32ee6660bc6]
[pii_pn_b6b0bca291518a468885]
[pii_pn_cefe2bcfe88ff4ba89a1]
[pii_pn_45d259898279fd9efd64]
[pii_pn_4866bc444417a357d4a6]
[pii_email_868d9fb32a318f107324]
[pii_email_43c82e05a7fc4cacec8e].
[pii_email_269875f00330f39b4ce1]
[pii_pn_2263301bda8a12eec8c3]
[pii_email_12bf30922aa88585e311]
[pii_email_c4f4bd996a6fa2551548]
[pii_pn_b3d2d63570ccdb4550dc]
[pii_email_5778d715c687464f37b5]
[pii_email_09f3448098f4b068e550]
[pii_email_d99373dfa89915c597f1]
[pii_email_b9246b47d9c7a273002f]
[pii_pn_c049999a8e5c26baa853]
[pii_email_f71255ea430fd343cfcb]
[pii_pn_2a2d0dcb5fbf88045f82]
melhores [pii_email_4f4119728a319873083e]
[pii_email_23a3bd51b74d17547a1a]
[pii_email_da0cd1da6522be9d39d7]
[pii_email_62d9e627dfc4e3136ace]
[pii_email_bd609183315e6d77b437]
[pii_email_5c5c381711283d15651d]
[pii_pn_e3e9edf423bbd707bbd9]
[pii_email_be781a2131e0a36f2c1d]
[pii_email_4afb1127f464e0cfb8b9]
[pii_email_2825e3590d54c641d32a]
[pii_email_07d7df3d7555eaae906e]
[pii_pn_2a06a942bcbf5a11b557]
[pii_pn_e4be4520a9facba64a42]
[pii_email_8d5deb2e795e99db8274]
[pii_pn_e36a3dce1d1b5ce2bc37]
[pii_email_dbe0c255fe62f501f6c8]
[pii_pn_0874e33ea50be8697f8d]
[pii_email_aa68b712da2951341712]
[pii_pn_4802f3db9e445f7e04c4]
[pii_pn_2941d3ea3e9b830725a3]
[pii_email_1533ee477aa8594f1174]
[pii_pn_39f2bab81379137ee054]
[pii_email_6970264b17b5c1d871d3]
[pii_email_79efd3a29160b30885c5]
[pii_pn_f72886b68024eb6ee67d]
[pii_email_64dea34777f31840a63b]
[pii_pn_5e9f47e152fe5d192f95]
[pii_pn_2337f9fefd5ed66f8b3e]
[pii_pn_bb98abbdd415de4d32c7]
[pii_email_c6e16c48d7fced92ccde]
[pii_email_eb78746c059daa391446]
[pii_pn_13423f5a23da3264ef8b]
[pii_pn_6e1a69c10d7cf75ee63b]
[pii_email_8ebbd5f04ac82018e7ad]
[pii_pn_bd74f1f12b11539a892d]
[pii_email_96922135dc6aacb19e17]
[pii_pn_75dd0685214930038f18]
[pii_pn_aed3903db195039f2211]
[pii_pn_312ea5c3199fbcc07328]
[pii_pn_9bc69dfdbe50c47e44ab]
[pii_pn_2b2c3878c4bd30e6e95f]
[pii_email_933603774a75e5174103]
[pii_pn_bd7f55b4dbbfdfac0e71]
[pii_pn_da3301714e8c47fe0875]
[pii_pn_221ff2a488b17132f886]
[pii_email_c8beff87fc567e36bb34]
[pii_pn_14ce89bc1627f0160a14]
[pii_email_d3caa92332fea649a34e]
[pii_pn_2f3cf83ab2f025093599]
[pii_pn_88e18f2ec47d5a50059c]
[pii_email_7a32202e105fdee36999]
[pii_pn_fac8b394753008527d2b]
[pii_pn_f55dba4fcde8d56c5b7a]
[pii_pn_465985b49511033e9464]
[pii_pn_105d15c7f336e7683131]
[pii_pn_cc8d6ae48528f63e9732]
[pii_pn_b55a51f556eac2193602]
[pii_email_0c59716a9c5c6170cd90]
[pii_email_47c778f52c5faef4c10d]
[pii_email_fb07e296a870e4a3349f]
[pii_pn_3d2384f577d6c6df2597]
[pii_email_8a29544f4f8da48a4c9b]
[pii_email_1b39717b5aae717b880c]
[pii_email_55e943f5d5a0fcaa86d5]
[pii_email_bdace87a24091a96150a]
[pii_email_4c0b922ec7d96ad74d0c]
[pii_email_dcbe9df8c7dfaa6d5057]
[pii_email_51e950629b961543d164] oi
[pii_email_5d70b470d67dbe185970]
[pii_email_87fe7c08d390b2739fc1]
[pii_email_47d3a635c59c09062965]
[pii_email_e51592ff4abd3a38924f]
[pii_pn_3c06ce0d753bc9f8f3b6]
[pii_email_cd1dd0afebfea6566b12]
[pii_pn_6c707b32ebdf3aa59fc6]
[pii_pn_f35e43ee17b054ec999c]
[pii_pn_cacd57e4af8aa8e3d566]
[pii_pn_cae74d00df81518f3ec0]
[pii_email_1be8495deee7160dc926] betim
[pii_pn_7198c3e9675f061c9f1b]
[pii_email_176f1cc26dc30a9d44b3]
[pii_email_64a8d2b69f5f62f4aa61].
[pii_email_7229296b6386a9ae1058]
[pii_email_9cf08eee69dff49eeb37]
[pii_pn_c9d6156220e3d8ab096b]
[pii_email_543b1659c815bf376842]
[pii_email_779a856357a1bbdf49be]
[pii_email_55db20f1b05d9fc6ce8e]
[pii_email_8d299788ab5137fd8518]
[pii_email_7b399b28505529153655]
[pii_email_94e078d6f9f00bcd201b]
[pii_email_55a175dcd8432d8c7c43]
[pii_email_268f93dad202e0740c97]
[pii_pn_36cb57f25b45f19b6599]
[pii_email_0bc3da1ba01eb999f367]
[pii_email_470b7df4a7cae188e240]
[pii_email_b4e891cdcdd856265ea2]
[pii_email_7465d0cde334d32972d9]
[pii_email_5d710bc63919978b79d6]
[pii_email_41986ec68ed9b5ef2664]
[pii_email_2d2a1fbed13968f38646]
[pii_email_900a845939fc7f4a1014]
[pii_email_95a119133dd74b07260c]
[pii_email_d0256be0f523eba8914f]
[pii_email_5eb6217a9d041ec71f0d]
[pii_email_31a4e6a6eb99c42c352e]
[pii_email_8ed5c70393c69006cb69]
[pii_email_3752030a55c2bc3f231c]
[pii_email_9a76f38af82024aa5a87]
[pii_email_c5226c991dc4d7607b72]
[pii_email_037d35d5dd9d7f05f1b6]
[pii_email_1166d59dab3703dd4f73]
[pii_email_eff2da07c0ae7813f1a3]
[pii_email_9f8a713c04b0d50bd4ff]
[pii_pn_a82e2bf056a53449162e]
[pii_email_398f86f5606a42692b63]
[pii_email_4504a4d1e6f4a165c037]
[pii_email_e6164bcefd3666354c28]
[pii_email_845491bb8ee7725d695d]
[pii_email_58592ed5c5e486d7f940]
[pii_email_c95738a374b33cff9956]
[pii_email_5a38d7f7460cdf8e4642]
[pii_email_dcf6d0d5c4f2d56df4e7]
[pii_email_ccb233f1c2d2bcf2e4e3]
[pii_email_dabab0e6f8cf00339cfa]
[pii_email_567b291cc2e76224b33a]
[pii_email_98acc239225c86b0cc38]
[pii_email_63a395f91dbc0bcb3a96]
[pii_email_0e7fd286b573ff758214]
[pii_email_9b6fc46c645fc7eef820]
processo seletivo [pii_email_b85a5506f7b34489918d]
[pii_email_51e950629b961543d164]
[pii_email_ecde27af0305808b1b68]
[pii_email_42967f72ca162c3d3c96]
[pii_email_0e42f9903c1c5dad548f]
[pii_email_438e77997a2bd8c7519d]
[pii_email_d1b827f1d58e136a3657]
[pii_email_d046bfb4998cff8c91d6]
[pii_email_c5e33ad78ca2613b74e2]
[pii_email_d79eb8bb31d4410d5e2f]
[pii_email_2d6bedc3632ee32647fa].
[pii_email_ee2e7b80c8518e1aef95]
[pii_email_15946a8f6d2e96b28f82]
[pii_email_23f6e45003b00f30cfd4]
[pii_email_4155019b836b3c774534]
[pii_email_efeae0dfbdb0c74030dc]
[pii_email_ecb80ed6e88f42324029]
[pii_email_6c1d3326ba7856c10d9a]
[pii_email_bb2b40b522f187724d13]
[pii_email_d2e922e1d489932eaf74]
[pii_email_c66af18207ba910615cc]
[pii_email_473d820560a103b1e114]
[pii_email_10b1374b23d00899d37b]
[pii_email_1dd33469b497a988f8c0]
[pii_email_873d848bc86403021191]
[pii_email_4ef4165a236b83374634]
[pii_email_772f4cbb1e2e87a80cf7]
[pii_email_036873ad78449453d88d]
[pii_email_a14b6768acfed3d4153f]
[pii_email_13f6f215eb39250482e3]
[pii_email_ce6ba071cc4758641387]
[pii_email_f6b01a5dc7c088756408]
[pii_email_bae0c974e1aaec866d82]
[pii_email_bc6c8e4a66ebb68af5fd]
[pii_email_8fcdc25d36e8e5241df6]
[pii_email_9e6bbbd19266f9479afd]
[pii_email_76f8706602b9da7da7b6]
[pii_email_2d6bedc3632ee32647fa]
[pii_email_996e5f8d24f3504e5dd6]
[pii_email_06ea10e0cc4d5eaa8d20]
[pii_email_3926f758f2772f4dc204]
[pii_email_5b2bbe263b28396b9099]
[pii_email_1726e7002d2de3b903be]
[pii_email_b66d94d0c843231097f6]
[pii_email_9a250486dfc2840ea0a0]
[pii_email_58a13f27055f05d93173]
[pii_email_b5e72b038fd718be92e1]
[pii_email_6322abcf7460837b71d4]
[pii_email_8110fd93bcd01eb3e4a5]
[pii_email_326c9077fe4985dce326]
[pii_email_aa0d21d1e72e9bb32194]
[pii_email_63a395f91dbc0bcb3a96]
[pii_email_0776f39deda1b03b6bda]
[pii_email_9bb10e86efbd83321529]
[pii_email_f4d4ae22098b463c3203]
[pii_email_8f40eede25a713f7dadc]
[pii_email_807502a2fdbbe0cdc6b3]
[pii_email_79c05479414eae86f072]
[pii_email_1dab4fa2efec46eead03]
[pii_email_ce17081926ccb61fbbe5]
[pii_email_a747cd82158b43044dd5]
[pii_email_7b7f227ad62995e49e37]
[pii_email_4c3c9bfb8ef45b6f753e]
[pii_email_43d5ef7fa8da0af34fab]
[pii_email_a980c5a7fed802109ebe]
[pii_email_430963a2864a95b60495]
[pii_email_4cca32b84a6bd4ee8657]
[pii_email_3f489fb13def98299ab0]
[pii_email_29168b7a1f2ce74be269]
[pii_email_89201dcf7c3582a7da77]
[pii_email_fb88d42a41fa165e4cb5]
[pii_email_c967d6967bf9099b9360]
[pii_email_535b7afc95c3226be274]
[pii_email_b9b38141361a437faeb6]
[pii_email_f6c5835d5b992d52681c]
[pii_email_302936ccd78c894425a9]
[pii_email_18845f1ba2e69e8dbc5b]
[pii_email_9314c5da63715226040d]
[pii_email_5e4e61b8eb6c47807507]
[pii_email_1a3b3cfa7ff7eb6c0c76]
[pii_email_582402beadb310280063]
[pii_email_15d0962ca50ad2f94db8]
[pii_email_72c4b5e217f8c9d9157e]
[pii_email_de408273fbb6228bdb8f]
[pii_email_2c960870a9f809455e47]
[pii_email_9dc299d031444b906828]
[pii_email_46134314e996227f7940]
[pii_email_6c4fd442cd4cab42efbd]
[pii_email_c800b367d30e775279b2]
[pii_email_39613d70bd8d15d01f18]
[pii_email_aa14ded4b0058e7cc2b8]
[pii_email_30901164339916c5341b]
[pii_email_6e16249178cf9c1c67d2]
[pii_email_f56710b3ee6485e4d44f]
[pii_email_72c6d04e0595dd61d918]
[pii_email_ca926e049a56e7939a1e]
[pii_email_cfc2c004deec19b23baf]
[pii_email_3cc73a25726b19f2950e]
[pii_email_3cc73a25726b19f2950e].
[pii_email_fdb1682c18f7dfeb0d47]
[pii_email_97f182d434b97141dfad]
[pii_email_e32ef86799ad26e76bbb]
[pii_email_39efd4216e4a0b0043d6]
[pii_email_bc4566d98bf748afdc0e]
[pii_email_ea569b92469162561061]
[pii_email_70c98dbac0fd70fae270]
[pii_email_7dedb73e5505d0497db8]
[pii_email_f71aaa926659c5006ec5]
[pii_email_e8439c61385c018a82f8]
[pii_email_7e3d44b40c5b2ff01a81]
[pii_email_72fc6bc6145a240768db]
[pii_email_1e6f2c6cdc29e9770b55]
[pii_email_0f08bea01b7195951d9b]
[pii_email_410e10fac62a634f4c6b]
[pii_email_24dcec87fde2972b22c5]
[pii_email_2414527cc342b1bab49c]
[pii_email_e8df564e45788d1719f0]
[pii_email_f762b16657cc4ce83932]
[pii_email_5b2bbe263b28396b9099]
[pii_email_aaa200ab2e704a472419]
[pii_email_202a9351bc93c661367d]
[pii_email_583f716f9d7a4da6501a]
[pii_email_008c4c1336344568c20d]
[pii_email_f076bed13f985ec411a8]
[pii_email_5577ba49bd241a2a1038]
[pii_email_835a11cac462c7237498]
[pii_email_215a6201c0c7e8b216e2]
[pii_email_06757bc5ffe54a5a79d8]
[pii_email_0798d2cbe47405be6fe2]
[pii_email_bab9544c6d17eae10302]
[pii_email_59a60f98b693da1e09b4]
[pii_email_b7795693c063bfdde9f3]
[pii_email_cc6f825002d207f60b2e]
[pii_email_3f22c699d1bb3f2e6d2b]
[pii_email_c7d39533d24206a118a8]
[pii_email_7ade6540e7d1ee28958c]
[pii_email_4528d6ca35c70de29002]
[pii_email_617d83c2f3490ce317a9]
[pii_email_1f96a42b05f05d87b53e]
[pii_email_53282642ecbf7636a96e]
[pii_email_9688307cd56d7312518b]
[pii_email_e6fdace632f723109838]
[pii_email_037d585d44572610fbef]
[pii_email_e9f1ed50b181b4d6169b]
[pii_email_7ec568d381f6878222a5]
[pii_email_3cc73a25726b19f2950e].
[pii_email_4528d6ca35c70de29002] fatura
[pii_email_65eb601967e45010a508]
[pii_email_f65e0ca50aa0e2cee1cb]
[pii_email_838b2272e97469bd4a0f]
[pii_email_3380762cf4c0c767607f]
[pii_email_6079456d4446944535e0]
[pii_email_434593fe2cddbd96e477]
[pii_email_fd3e7c1a10a580bacf41]
[pii_email_c2e08c4d62fa73641420]
[pii_email_2424915ea6b6e6e1d844]
[pii_email_51d66af3a678de554a6e]
[pii_email_64a8d2b69f5f62f4aa61]
[pii_email_0d0336e221597a9e35ba]
[pii_email_b9ce4a385cb8780d05d3]
[pii_email_642f87fa885e80d1860d]
[pii_email_0f96f71f213b9c488071]
[pii_email_5c2b7c80245f3adf7fa5]
[pii_email_59b488f76aa9cad98800]
[pii_email_3f720e3a0ffbd8e3a6cb]
[pii_email_43c82e05a7fc4cacec8e]
[pii_email_de86a2716b35a62c27ba]
[pii_email_fb744d11a3ed05e5c111]
[pii_email_429d3e7e7d628f02e3a7]
[pii_email_c686da4f3a3c8ea56219]
[pii_email_45cd6abb872a53b62deb]
[pii_email_0661be6c4d935a80ce26]
[pii_email_56ed8525bf3652053db8]
[pii_email_03676eeb916bb141b5bd]
[pii_email_d0d162fab880b5e81452]
[pii_email_461bc736c384760d4cfa]
[pii_email_b995928a4e14dd446387]
[pii_email_fe348201988176bffa91]
[pii_email_da40afb456e2ce324be2]
[pii_email_dddc7397d8cf091f5e5e]
[pii_email_12a4c58da68b2ede179f]
[pii_email_c6afc6cdd0bd01cde952]
[pii_email_3df10c6245403b742694]
[pii_email_b1548b3ebe390bdaf742]
[pii_email_8ac9302c04052e65723a]
[pii_email_10988133ac336b2ba96d]
[pii_email_489b0a3438fbf6fa6943]
[pii_email_450f0262610e118e87de]
[pii_email_c0a8230f1f69fe05510a]
[pii_email_74eb8115b4a2c484698b]
[pii_email_a21e7f9e137d9c16b05f]
[pii_email_a77847b671a1ccf8e3de]
[pii_email_87098acbc8b50a755df4]
[pii_email_48462ede47ae2c607873]
[pii_email_410bdc3a3aa5816834bb]
[pii_email_7836de0c75ac3e85d023]
[pii_email_74d9734e50e9834d9366]
[pii_email_a41aa47e078a6f225151]
[pii_email_01c44b24ec71843a2255]
[pii_email_fbc223f4ab5ed42ba67d]
[pii_email_d11e9875f8540b944290]
[pii_email_991a65d5cb8d0f50fee3]
[pii_email_802165ba547f297b4d99]
[pii_email_efde084875361f7c222c]
[pii_email_3752030a55c2bc3f231c]
[pii_email_de6a349a3cde33367e91]
[pii_email_25ded7ae1d4fb481970d]
[pii_email_13c8635689b34943f834]
[pii_email_6ec15d941b663507b779]
[pii_email_97203e38a34837406de3]
[pii_email_6f56161c74f95924012e]
[pii_email_628bf04a753cba0e6900]
[pii_email_ab7b6ff4e90e1ff5058a]
[pii_email_b7cda8bf27db8a078ba8]
[pii_email_a1cc7b70d50b46098459]
[pii_email_bb8bf9e98ec7acd16ded]
[pii_email_545f32d9e8fab23473a5]
[pii_email_d1312ea8504adaddc88e]
[pii_email_22cd2ebf38aa975b94b1]
[pii_email_36de891c122d507748c0]
[pii_email_37244068e516a0de79d9]
[pii_email_8d527d394345cf85ee4b]
[pii_email_2e4c2a68ed7a416f8acf]
[pii_email_75e564d72c6d6351bb3b]
[pii_email_f7fcea964c820c4154df]
[pii_email_178b1b8c8e4dc1c33c0f]
[pii_email_67907b59736751561a23]
[pii_email_cddcb51bf30a5e9d8be6]
conta digital [pii_email_9756c8c5c032e53bb076]
[pii_email_a1cc7b70d50b46098459]
[pii_email_8fe0f671b361c8ac5776]
[pii_email_169fd43b817e470ae301]
[pii_email_8fe0f671b361c8ac5776]
[pii_email_45995450d9342a93d55c]
[pii_email_f096de79851a3ae0de43]
[pii_email_8c829561a8d50e3e8386]
[pii_email_9acfb5c5fb8c15c03bc3]
[pii_email_1e6f2c6cdc29e9770b55]
[pii_email_2d8c3eb986769fd38cf4]
[pii_email_e5641cfae3cfc66b6325]
[pii_email_bbe29fe11c1a373dff30]
[pii_email_8c829561a8d50e3e8386]
[pii_email_45995450d9342a93d55c]
[pii_email_f096de79851a3ae0de43]
[pii_email_8c829561a8d50e3e8386]
[pii_email_9acfb5c5fb8c15c03bc3]
[pii_email_1e6f2c6cdc29e9770b55]
[pii_email_2d8c3eb986769fd38cf4]
[pii_email_e5641cfae3cfc66b6325]
[pii_email_bbe29fe11c1a373dff30]
[pii_email_8c829561a8d50e3e8386]
pii_email_578e486981a758e23729
pii_email_578e486981a758e23729
Related posts