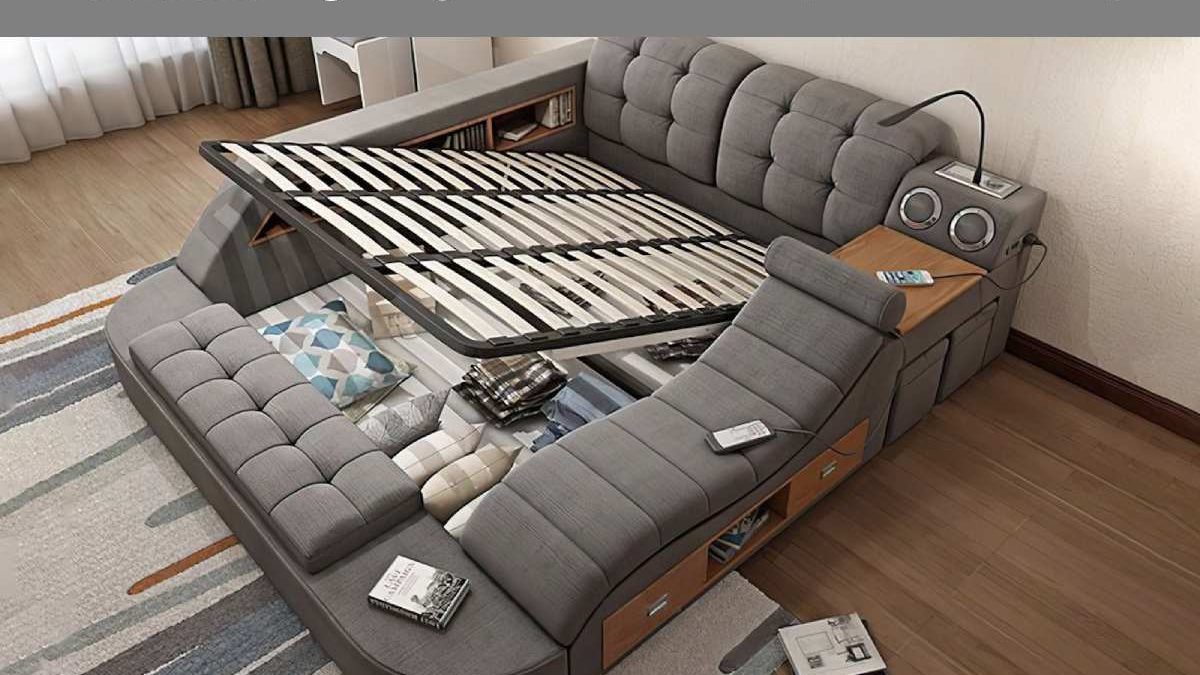 Luxury is no longer shown by the latest expensive car or a fancy necklace. Now, you need to have the latest high-end gadgetry as well if you want to make a signature statement. Whether it is your work life or your personal life, you need to have the fanciest gadgets if you want something extra in your life.
Thanks to the amazing technologies available nowadays, we are blessed with some of the best gadgetry out there that apart from making life convenient, add a little flair to your life. Check out some of these amazing gadgets below that we have gathered for you:
With the CemtrexSmartDesk take your work or personal experience to a whole new level. Being one of the most advanced workstations in the market, it comes with three 24-inch touchscreens that are also accessible with a keyboard and a trackpad.
If using a keyboard or a trackpad seems too boring, then you utilize the ultimate gesture functionality on the workstation that works like a charm. This amazing workstation comes with a fast-charging wireless charger, a built-in document scanner, and a Bluetooth connection.
Powered by the phenomenal 8th generation core i7 processor, this workstation is not to be taken lightly. And to compliment the high-end hardware on this beauty make sure to have flawless internet services such as the ones provided via AT&T bundles. Plus, the AT&T Internet prices aren't that high either, as you may want to save money somewhere if you want to afford this lavishness.
CSEED is the proud manufacturer of the world's largest 4k widescreen TV perfect for the outdoors. It is a symbol of excellence when it comes to flawless design and state-of-the-art technology.
Imagine watching the football game of the season with all your friends on a giant 4k screen, all the while enjoying the bright sunny day. And you won't feel embarrassed in front of your friends because of tangled wires behind the TV as well as all of it will be hidden underground and all you would need is a classy remote to make it work.
The SEABOB F5 SR is the perfect toy for underwater enthusiasts. Equipped with a high-resolution camera, this baby is capable of traveling 14 mph over water and 12 mph underwater. So take this remarkable piece of machinery underwater and explore the depths of the ocean like never before.
Capable of producing up to 745 newtons of thrust, it is one of the most powerful watercraft there is. Also, the battery on this device is capable of lasting up to three hours so you would have plenty of time before needing to go back to the surface.
This beauty further has two integrated cameras, a 64 GB capacity of storage, and a WiFi module to enable you to stay connected. And it also comes in 12 luxurious colors so that you have the toy in your favorite color.
Don't you just hate it when the wires on your headphones get tangled or get stuck, causing them to fall out, interrupting your favorite song? Well, with Jabra Evolve 65t, you won't have to worry about it anymore.
Capable of blocking out all background noise, these wireless earbuds are perfect for the professionals out there. These earphones are capable of lasting up to five hours on a single charge and come with a pocket-friendly charging case as well.
It is equipped with high-end 4-mic technology and Skype for Business as well. It is even capable of connecting to two devices at the same time so you may easily switch between your laptop and your phone as much as you please.
Your fitness should never be compromised. But struggling to keep yourself fit can be a difficult task at times. With the MIRROR fitness system, enjoy your workouts like never before. It is the first-ever in-home connected immersive fitness system.
It is equipped with a highly responsive display that creates a studio-like environment for your workout right at home. The display comprises an LCD panel, stereo speakers, a camera, and a one-way mirror.
From now on, whether you want a light workout or an intense heart-pumping workout, you must do it with this phenomenal fitness system and join millions who are utilizing this nearly invisible mirror.
Wrapping It Up
Life can get pretty boring at times. Going through the same routine day after day can be tiresome. So, with these exceptional technologies, add a little flavor to your life.
Related posts