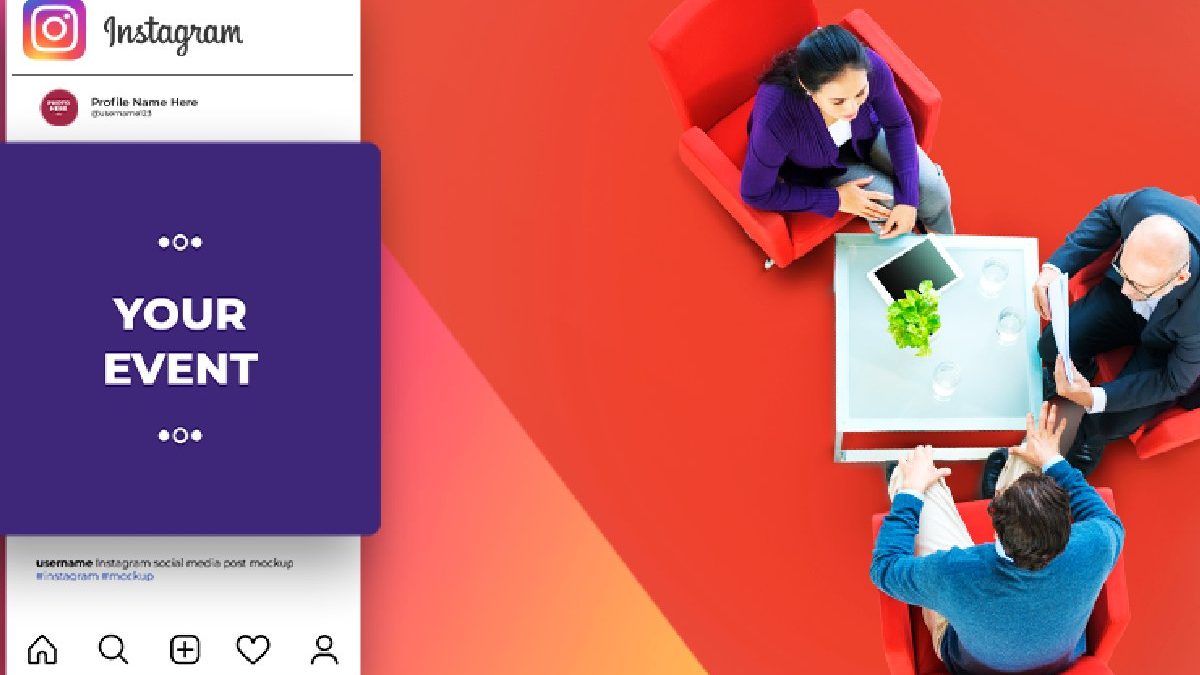 Traditionally, event planners booked many of their event planning gigs through word of mouth and referrals. With social media, however, it's much easier to market yourself among strangers who aren't part of your immediate or extended network.
Social media marketing enables you to showcase images, videos, and testimonials from past events you handled. This makes it an extremely effective small business marketing tool for your event planning company.
Among the countless social media platforms, Instagram is the 7th most used social media platform in the world. Since it mainly relies on image-sharing from users, it can be a great app for highlighting the events you've worked on.
Whether you specialize in personal events like weddings and birthdays or corporate events like exhibitions and symposiums, Instagram is loaded with practical tools and features you can use to boost your event planning business.
Join us as we show you how you can promote your event planning business on Instagram. 
1. Reels
It's common knowledge that videos are much more engaging than text, however, they also have to be short and to the point. Instagram Reels let you capture and upload up to 15 seconds of video to your profile so you can keep your videos short, engaging, and memorable.
As an event planner, you can create all kinds of reels to intrigue viewers such as:
Behind-the-scenes snapshots of events. These can help your audience appreciate the work and professional services that go into event planning. 

Quick

business video

s

that break down the process of event planning like consultations, follow-ups, and the actual event. This will help clients know what to expect when hiring your services.

Introductions to your team (or yourself if you're single-handedly running the show)

Anecdotes from memorable instances during your career. For example, an emergency situation where you successfully did damage control to show off your skills.

Talk about why you chose event planning as a career and what you love about it.

 Tips and tricks to help customers understand how they can assist their event planner and get the best results from their services. 
Reels are preferred by the Instagram algorithm so there's a higher chance that more people will see them compared to other Instagram posts. Instagram also has an entire section dedicated to them.
2. Stories and Highlights
Instagram Stories are a great way to maintain and enhance your relationship with your existing followers and potential customers. Stories disappear after 24 hours unless you add them to a Highlight.
The great part about the time limit on stories is you don't have to put in too much effort since they won't be a permanent part of your feed.
Consider uploading stories that contain the following:
Updates and behind-the-scenes of ongoing projects

A vlog of your day

Custom

Instagram posters

about upcoming seasonal discounts and events

Live posts from events that you're handling, especially public high-profile affairs

Images and videos of decorations and accessories that you're preparing for an event

Temporary polls on stories to make viewers feel more included in the process. For example, if a client is unable to pick between two colors of tablecloths, you could ask your followers for their inputs!

Videos where you answer frequently asked questions about event planning
A lot of the stories you post can be converted into highlights that remain on your profile permanently. 
For example, if you've posted several stories of an ongoing project over the course of a few weeks, you can compile them as a highlight with the event name.
3. Posts and Guides
There was a time when Instagram users tried to maintain specific themes on their feeds, however, the platform has gradually shifted its focus towards creating quality posts that offer viewers more insights.
Brainstorm and create unique content like:
Enticing images of events you managed

Comparisons between different events and client styles to show your versatility

Professional posters outlining the services you offer, the price range, and other aspects of your business which you can design using tools like

PosterMyWall

Progress pictures from events that you're currently handling 

Posts that show you and your team at work so viewers can see how much effort goes into your job

Stories and anecdotes of interesting events and challenges you face as an event planner
Posts can have longer and more detailed captions. This is really helpful in encouraging discourse and generating traction — something that isn't as easily achieved through reels and stories. Don't forget to include relevant and catchy hashtags!
You can also use the posts on your profile to create Instagram Guides which you can then organize into event categories (think weddings, birthday parties, corporate events, etc).
These can help viewers find what they're looking for while showcasing your range as an event planner.
Final Thoughts: Instagram Your Way to a Booming Event Planning Business
Though you can use Instagram to upload short videos and text, Instagram is best known for sharing photos which is really helpful when you're looking to book more events.
As of 2022, there are over 1.2 billion Instagram users in the world — that's almost 30% of global internet users!
This means that if you're looking to market your business on social media, Instagram should definitely be on your list of platforms to use. Paired with helpful and easy-to-use design tools like PosterMyWall, you can grow your social media presence and your event-planning business!
Related posts