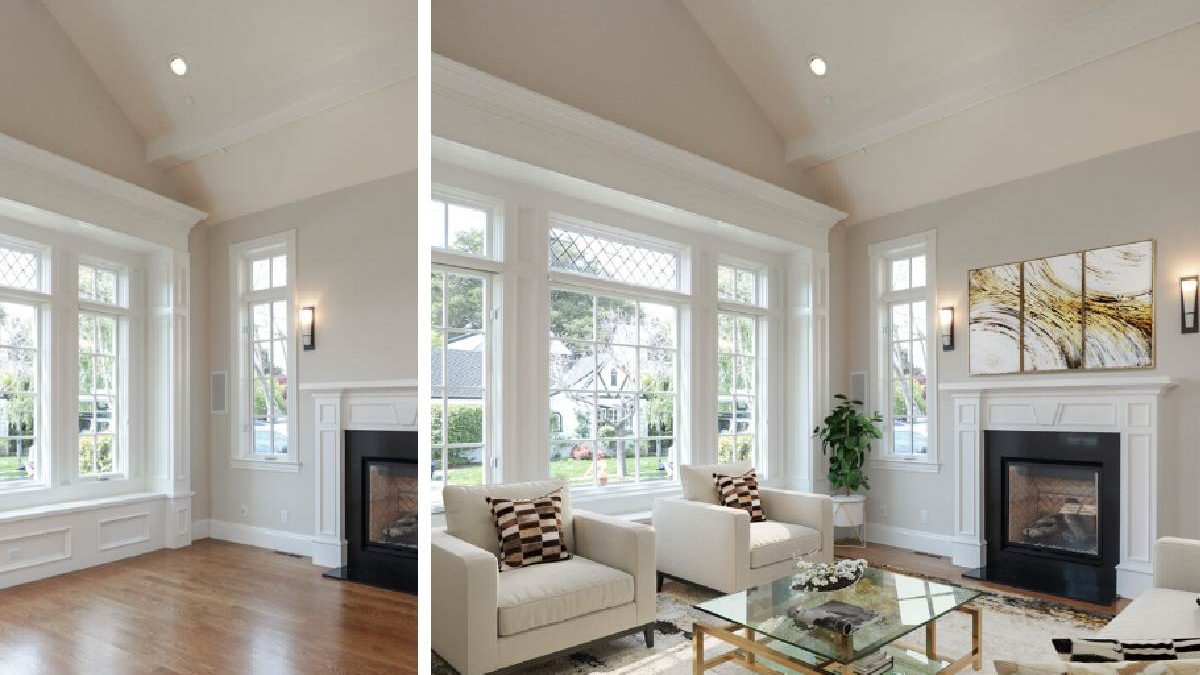 Virtual reality has transformed the real estate business entirely. Via virtual offices, you can work from the comfort of your home, organize all your real estate deals, and coordinate the working of your employees. A beautifully designed home can help buyers attract potential clients. Listing properties is becoming a smart marketing tactic as most buyers prefer to choose a neat, well-designed and trendy home. However, addition of these fancies would make the selling process a lot more complicated due to extra manual labor, time and effort. Yet, this does not mean that quick sales would be guaranteed. Here, virtual staging comes to the rescue. For many years now, brokers and sellers of real estate have been using virtual staging to increase property sales  as their apartment marketing ideas to increase property sales.Virtual staging is more skillful and have broader benefits than regular staging. This process allows real estate agents to achieve great results while saving a lot of time, money and headache.
Virtual Staging And Its Benefits
Virtual Staging is the process to enhance digital photos of a property using graphics software to show the best features to attract buyers. This software removes unnecessary clutter allowing the addition of furniture, decorations, and show accessories in your property photos. Great care is taken to ensure that every room in the home appears organize like traditional staging. The final image is then placed on the listing, giving the seller the opportunity to entice new buyers to buy or book the property. Like traditional decoration, you can add anything from wall hangings and carpets to beds and sofas. If your business operates online, such as in a virtual office, virtual staging can be a great idea to let your customers see the property without physically visiting them. 
Moreover, virtual staging can help you and your potential customers save money. With it, you don't have to hire staging companies to move and replace old furniture since everything is virtual. You can also have the opportunity to experiment with several colors, moods, styles, and other design elements without purchasing new decorations or removing pieces of furniture.
With virtual staging, you can take advantage of flexibility in arranging or decorating a home. You can use virtual staging software to add home décor to the existing furnishings to make the image of the property more appealing and inviting to prospective buyers. Lastly, virtual staging allows you to conceptualize different design themes to help clients with difficulty visualizing a specific design concept for their home.
With these things in mind, there's no question why virtual staging has been a popular way of selling properties without spending more time, money, and effort. This process can be convenient for sellers and buyers, as the staging process can be done virtually without the need to visit the real estate site.
Difference between Virtual Staging and Traditional Staging
In traditional staging the realtor physically examines the home or property  which is to be sold. The stager then takes photographs of each room to find out what is need. Then,  in order to make it attractive, necessary décor is add to attract buyers. The buyers are then shown the photos or have to visit the property physically to see its features. This type of staging requires a lot of work, time and additional money on the part of the salesperson and can be very difficult if he is still at home during the process. Since empty houses are easier to build, most traditional stage performers must leave the building before new items are available. Traditional staging is good for the credibility it offers. However, because of convenience, cost-effectiveness, time-saving and inexpensive advertisements, virtual staging is the best choice. All it needs is clear photos or videos of the entire house in order to make the virtual staging effective. Thankfully, there are cloud-based image and video editing applications that allow sellers to create real estate videos that look amazing and appealing. With these applications, sellers can enjoy designing videos that delight their potential clients.
Because of these technological advancements, virtual staging has become much easier and faster. This process is much more convenient for sellers, as there is no need to physically move goods or pay for storage and worry about getting everything in its place, as all new furniture is virtual and does not actually exist in the given property. 
What It Takes to Virtually Stage a Property?
Virtual Staging involves professional photography and experienced designers. The most realistic virtual cinemas are based on professionally shot photographs. To make your furniture look realistic, you need high-quality photos. Professional photographers can capture room photos from the best angles for staging. Everyone has different styles and choices. Also, if you don't physically see it, it is difficult to determine which style matches the attribute. When uploading photos for placement, the virtual stage provider offers a variety of styles to choose from, but it's always a good idea to upload an image of your preferred furniture type and style. Additionally, it can be helpful to draw reference images on where furniture should be place because editors are often unaware of the photographer's perception.
Providing an Imagination Of The Property
If the buyers have the opportunity to see his imagined future applied on the property he intends to buy, he can close the deal right from the start. This approach is very effective because it provides customers with the opportunity to see the various possibilities of their future home, such as design, style and decorative details that enhance the visual appeal of the place. The virtual staging changes an empty space into a home with a fully digital design based on customer preferences. But buyers know that the place they are looking for in photographs is digital only and is selling empty. They would consider buying a home if they only considered the options and could imagine living in this environment and all other conditions. Additionally, you can post these photos and videos on the official website of your virtual office to let a wider range of audiences see it at their will.
A Choice of the Pandemic Times
The real estate business model is rapidly changing due to the COVID-19 pandemic. Virtual home tours and online marketing are becoming the norm due to pandemic. Real estate websites and smartphone apps are the first thing most buyers look at when they're ready to find a new home. Through virtual staging sellers can easily showcase beautiful photographs of their properties from the comfort of their home. Virtual Staging cuts overhead costs so you can have more money in your pocket. Whether you are a broker, proprietor or realtor virtual staging is at the forefront and will be the focus of future steps. Virtual staging helps real estate brokers to sell or rent properties faster.
Related posts